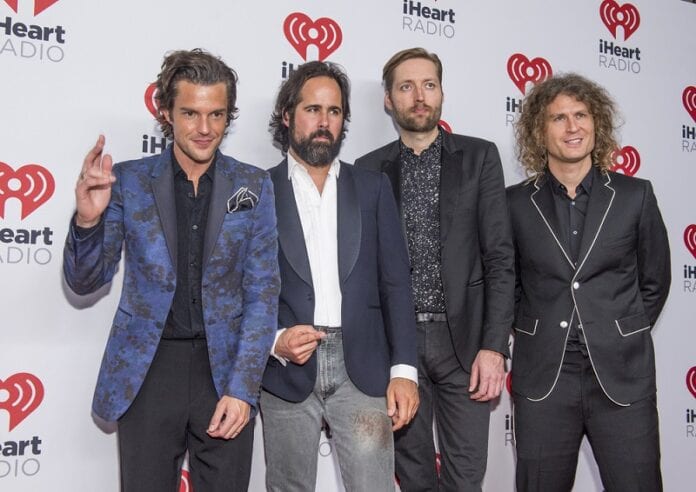 The Killers frontman Brandon Flowers has raised doubt about their summer tour as the band have completed work on their new album.
During an Instagram Live session, Flowers and drummer Ronnie Vannucci Jr said "We hope May happens. It's not looking great."
They were due to start their European tour in Doncaster in May before a string of dates across the continent which includes two shows at Dublin's Malahide Castle. The tour was originally due to take place last year but was postponed due to the pandemic.
Flowers also revealed that he needed to undergo surgery after a bike accident years ago. "I went over the handlebars on my bike and an injury from that has manifested itself. I have a torn labrum on that (right) shoulder so I am going under the knife in a couple of weeks to get that taken care of."
The frontman added that he will be required to wear a sling for six weeks after the surgery.
In better news for The Killers, the band have said work on their new album is finished. Flowers was a guest on Vampire Weekend's Ezra Koenig's Podcast on Apple music and said:
"It's almost done and we're going to mix the record next week. We don't have a drop date, but it's pretty much done! It sort of fell into our laps."
"Some songs are laborious sons of bitches and then some just appear. This album just kind of appeared and we've never had that happen. We've had songs appear but never an entire record like this. We're almost confused by it, but we're going with it and we're really excited about it."
The Killers mysteriously posted a track list online in December, sparking rumours that a new album was on the way. You can check out Radio Nova's report on it here.
The band only released their latest album in August last year. Speaking about recording multiple albums in a short period of time, Vannucci Jr said:
"The interesting thing is that most of the time you sort of dedicate time to get into the zone, where you're writing songs and recording songs, but then you'll have to put another hat for where you have to go and play these fuckers live and sell it that way."
"The cool part about this is that we have never had to be in the same lane for so long and so we still have these recording and writing muscles, but no so much the playing muscles!"
"It's nice to be in that zone for so long, it's just interesting to think that maybe we should take longer to do two records at a time. Because it's a lot of fun, weirdly introspective."
Other bands release their own alcohol and acts like Kiss have their own brand of everything from condoms to coffins, but The Killers released their own brand of hot sauce last year, for all the info on how to get some, click here.