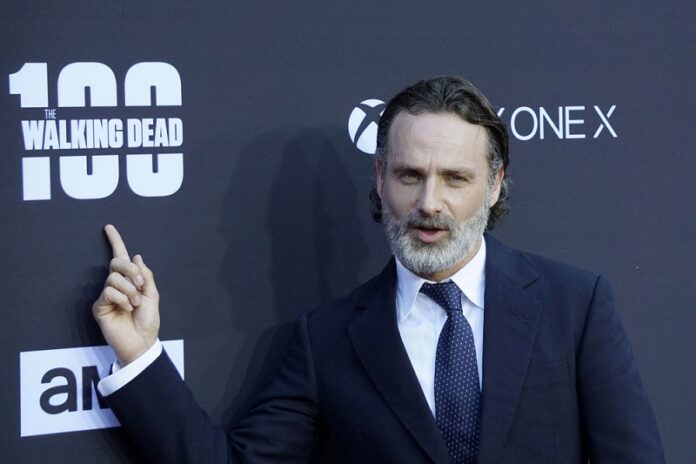 The highly anticipated The Walking Dead movie will be "worth the wait" according to scriptwriter, Scott Gimple.
Due to Covid-19, the film has suffered many set backs. However, we do know that Andrew Lincoln will be reprising the role of Rick Grimes. The main character and the favourite for many, left the series in season nine. This led to a massive drop in ratings.
When the decision was made to have Rick Grimes leave The Walking Dead TV show, it was said at the time that they were planning on using him as part of a wider walking dead universe.
Now speaking on The Walking Dead holiday special, Gimple has said "Two years ago, almost to the day, I was in the wilds of England with Mr. Andy Lincoln working on the movie. And because we work in television, we thought we would be working on the second one right now".
He continued "Movies take a long time, but it'll be worth the wait. It is moving forward. The COVID time kind of slowed things down anyways, but we're using that time to go back to the lab and make it as great as possible."
Gimple also teased the return of a former villain of the show. "We're working on something with one of the great Walking Dead villains of all time. And it's coming together".
There is speculation that the villain in question is The Governor from season three and four. Despite his character being shot and stabbed, David Morrisey, the actor who played him said in an interview with Digital Spy "Obviously, The Walking Dead comes from a graphic novel series by Robert Kirkman. There's three novels within that: The Rise of the Governor, The Road to Woodbury and The Fall of the Governor.
"They are brilliant stories. If I returned, I'd love to return, in a filmic way, to tell those stories."
The Walking Dead will return to our screens in March of next year. Six follow up episodes are to be released to bridge season 10 and the final season.
Hilarie Burton, wife of Jeffrey Dean Morgan who plays Negan in the TV series is set to star in the bridging episodes as his late ex-wife, Lucille, who Negan named his deadly weapon after.
Once the series has been wrapped up, a spin off show revolving around Daryl Dixon played by Norman Reedus is expected to air. There are also plans for Melissa McBride's character, Carol Peltier to have her own spin off as well.
Andrew Lincoln will be starring in a movie trilogy as Rick Grimes starts a new adventure in the zombie filled universe.
AMC the show's creators, are fans of spin off shows. Fear The Walking Dead is in its sixth season and a new show called The Walking Dead: World Beyond aired this autumn on Amazon Prime Video.