Images of children who are homeless will be projected on to a number of landmark buildings in Dublin to highlight homelessness.
Focus Ireland has launched a new hard-hitting campaign to highlight the trauma that the deepening homelessness crisis is causing to nearly 4,000 children in Ireland.
The number of children homeless has shot up by a shocking 356% in five years (From 828 children homeless in Sept 2014 to 3778 in July 2019* )
Earlier this year Radio Nova presented a cheque for €89,689 to Focus Ireland from its 2019 'Help Our Homeless Radiothon'.
The Radiothon took place live on Nova on Wednesday 13th and Thursday 14th March and saw the station's listeners and supporters donate the funds to help fight homelessness in the Greater Dublin.
Nova's 2019 Help Our Homeless Radiothon comprised a live, on-air radio pledge drive and a new initiative, 'Friends of Radio Nova', aimed at encouraging businesses and local organisations to run local initiatives.
Nova's Kevin Branigan said: "We're blown away by the support we have received from listeners and the general business community in raising this sum of money for Focus Ireland. It's our 5th year running the Help Our Homeless Radiothon and, as the crisis of homelessness continues to grow, the level of support we receive each year is similarly growing".
Focus Ireland said that there is much good work being done as the charity – in partnership with the State – helped over 500 families to leave homelessness last year.  However, the crisis is still deepening.  Writing in Focus Ireland's Annual Report 2018 the charity's founder Sr. Stanislaus Kennedy called out the government on the issue.
Sr. Stan said: "The consistent response by the Government in recent years to homelessness has been to say that it takes time to tackle the crisis.  However, the nearly 4,000 children who are homeless don't have time.  They are having their childhood's stolen by homelessness and every day spent homeless is doing them harm."
Commenting on the campaign Rachel Murphy, Co-Director of Fundraising at Focus Ireland said: "We want to make sure that people realise just because they don't see children on the street it does not mean there aren't thousands homeless. 
Latest figures show nearly 4,000 homeless nationwide. They are living in emergency accommodation such as hotels and family hubs and there has been much research carried out by Focus Ireland and the likes of the Children's Ombudsman's' Office which clearly shows the damage this is causing to children."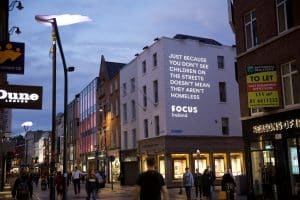 Focus Ireland has called for far more urgency by the Government to end this worsening human crisis and has repeated its call for a specific family homelessness strategy to be put in place which must include a cast-iron deadline that no family or child will be homeless for longer than 6 months.
The public can find out more about Focus Ireland's clear four point plan to end homelessness by going to  www.outofsight.ie