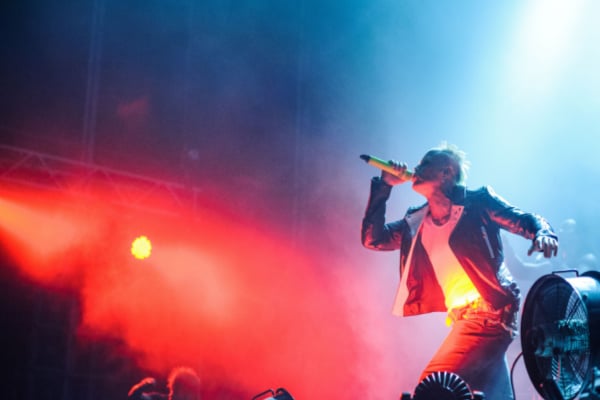 Last night, The Prodigy played their first live show since the tragic death of their frontman, Keith Flint. Flint tragically died from suicide in March 2019.
The band had announced plans for a stadium tour across the UK back in March, stating that "This one's for Flinty".
While honouring Flint, the tour also coincides with the 25th anniversary of their album 'The Fat Of The Land'.
Prodigy Tour "a long time f*****g coming"
The Prodigy began this stadium tour with some live performances at Sheffield's 02 Academy on July 8 and 9.
"It's been a long time f*****g coming", co founder Liam Howlett told the audience at the first night.
The band began that show with a performance of their track 'Breathe'. Check that out for yourselves here.
The Prodigy used 'Firestarter' to pay a poignant tribute to their late frontman Keith Flint. They beamed a green laser outline of the late frontman on stage, which also moved in time to the music.
This performance also saw the band perform tracks such as 'Smack My B****h Up', Voodoo People', 'Omen', 'Invaders Must Die', and 'Take Me To The Hospital'.
"luv and support"
Taking to social media after this show, the Prodigy thanked their fans for their "continued luv and support".
"We wanna thank every one of u that came out and supported us, this ment [sic] so much to us, the whole place blew the f** up and it was a night we will never forget", they wrote.
"Thankyou for the continued luv and support, we luv all m********s, Now let's F***** do it again!". See that post in full
You can also check out a number of videos from that Steel city show below.
The remaining dates for this Prodigy stadium tour are as follows.
14 – Liverpool, Mountford Hall
15 – Leeds, O2 Academy
16 – Birmingham, O2 Academy
18 – Newcastle, O2 City Hall
19 – Manchester, O2 Victoria Warehouse
21 – London, O2 Academy Brixton
22 – London, O2 Academy Brixton
23 – London, O2 Academy Brixton
Last March, the band also marked three years since Flint's passing. See here.