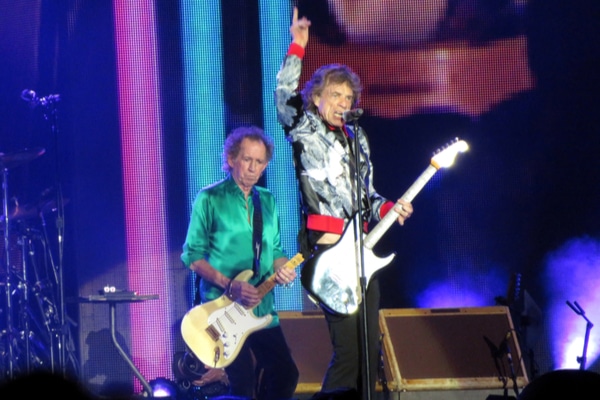 The Rolling Stones have confirmed that all singles from 1963 to 1966 will be released in a box set.
This edition will also include reproductions of the first 18 7″ vinyl singles and extended play records. These were originally released via Decca and London Records.
Bob Ludwig, 12 time Grammy winning engineer has also reworked these tracks.
Rolling Stones expert Nigel Williamson has also written a 32 page book of liner notes which will also come with this box set.  The box set also contains ephermera, along with some rare photos, a poster and five photo cards.
Arriving on June 10, 'The Rolling Stones Singles 1963-66' will be released via ABKCO Records. This also coincides with the band's 60th anniversary celebrations.  The box set can also be pre ordered here.
Along with this release in June, a second vinyl box set 'The Rolling Stones 1966-71' will also arrive next year.
Rolling Stones To Release Recordings
This news comes as the Rolling Stones previously released two unheard recordings from 1977, which arrive today (May 13).
These recordings are of the band singing 'Hot Stuff' and 'Tumbling Dice' from their secret concerts held at Tornonto club 'El Mocambo'. 
The tracklist from this secret Rolling Stones show is as follows.
1. 'Honky Tonk Women' 
2. 'All Down The Line' 
3. 'Hand Of Fate'
4. 'Route 66' 
5. 'Fool To Cry' 
6. 'Crazy Mama' 
7. 'Mannish Boy' 
8. 'Crackin' Up' 
9. 'Dance Little Sister'
10. 'Around And Around'
11. 'Tumbling Dice' 
12. 'Hot Stuff' 
13. 'Star Star' 
14. 'Let's Spend The Night Together' 
15. 'Worried Life Blues' 
16. 'Little Red Rooster' 
17. 'It's Only Rock 'N' Roll (But I Like It)' 
18. 'Rip This Joint' 
19. 'Brown Sugar' 
20. 'Jumpin' Jack Flash'
21. 'Melody' 
22. 'Luxury' 
23. 'Worried About You'
Speaking on June 10, the Stones will also release their live album 'Licked Live In NYC'. This will focus on the band's 2003 live tour. It will also include a documentary which focuses on the band's preparations ahead of their shows in Amsterdam.