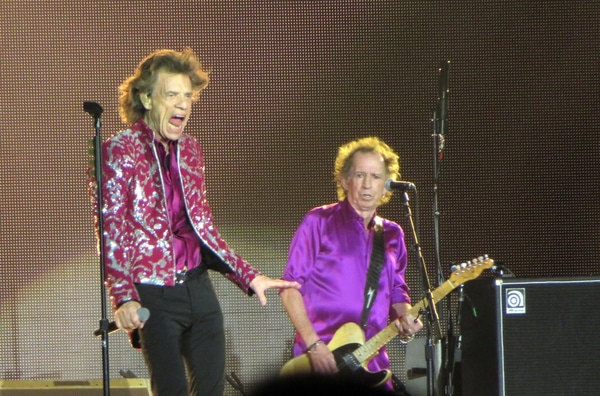 The Rolling Stones have released a video for their song Living in the Heart of Love, which the band have dedicated to their late drummer Charlie Watts.
The rarely heard song was recorded in 1981 during the band's Tattoo You sessions but ultimately was left off that album. The track is set to be included on the upcoming reissue of Tattoo You.
The black and white music video for Living in the Heart of Love features French actresses Marguerite Thiam and Nailia Harzoune enjoying a raucous night out in Paris with a group of friends. Archive footage from the Tattoo You era is sprinkled throughout, as seen on monitors. The video closes with the words "Charlie Is My Darling," which was the title of a 1966 Rolling Stones concert film.
Tattoo You is being reissued on October 22nd to celebrate the album's 40th anniversary. A second disc of nine extra songs, including Living in the Heart of Love, will be included. These include a reggae version of Start Me Up; a cover of blues classic Shame, Shame, Shame; and a cover of Dobie Gray's Drift Away. The songs were originally recorded during the Tattoo You sessions but have now been completed and enhanced with added vocals and guitar.
Also included will be Still Life: Wembley Stadium 1982, a live album featuring 26 tracks from a London show on the 1982 Tattoo You tour. The concert featured some of the earliest live outings for songs from Tattoo You along with covers of The Temptations' Just My Imagination, Eddie Cochran's Twenty Flight Rock and The Miracles' Going To A Go Go.
TATTOO YOU — 40TH ANNIVERSARY EDITION 🖤
A whole new experience…9 new unheard tracks (including 'Living In The Heart Of Love' you can hear now) alongside an all-new 2021 remaster of the album & Stones infamous Wembley Stadium '82 live show. Pre-order: https://t.co/DjBFbf0Oao pic.twitter.com/fXiJ5TmNGG

— The Rolling Stones (@RollingStones) August 19, 2021
The Rolling Stones kick off their latest tour of the US on September 26th, which will be their first tour without Watts in 59 years. Last Monday the band prepared for the tour with a private warm-up gig in Massachusetts.
"This is our first tour in 59 years that we've done without our lovely Charlie Watts," Mick Jagger said during the warm-up performance. "We all miss Charlie so much. We miss him as a band. We miss him as friends, on and off the stage. We've got so many memories of Charlie. I'm sure some of you that have seen us before have got memories of Charlie as well. I hope you'll remember him like we do. We'd like to dedicate this show to Charlie."
— Mick Jagger (@MickJagger) September 21, 2021
Ringo Starr is the latest musician to publicly pay tribute to the late Watts.
"Yeah, we will miss Charlie," Starr said during a press conference for his new EP Change the World. "He was a beautiful human being. He was like The Quiet Man. Me and Charlie, we hung out. It's not liked we lived together, we lived close in London, or we'd find ourselves at dinner or a gig."