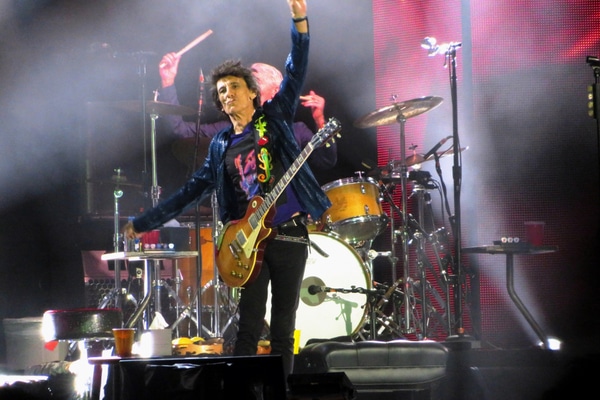 The Rolling Stones' Ronnie Wood reveals that he battled cancer for a second time during the Covid-19 lockdown.
Having previously been diagnosed with lung cancer in 2018, Wood was diagnosed with a rare and aggressive form of small cell cancer, but has now been given the all-clear.
Wood said that working on paintings of his wife Sally and their four year old twins helped to keep his spirits up. He also added that staying sober for a decade and the concept of the "higher power" have helped him in his recent fight with cancer.
"Higher power"
"When you hand the outcome over to your higher power, that is a magic thing", Wood said. "That brings you back to the (AA and NA's) Serenity Prayer: 'Grant me the serenity to accept the things I cannot change'. That's incredible. What will be will be, it's nothing to do with me". 
The musician continued, "All I can do is stay positive in my attitude, be strong and fight it, and the rest is up to my higher power". 
After his first diagnosis in 2017, Wood admitted it "could have been curtains", having undergone a five hour operation to remove parts of his lungs.
Wood given the Freedom of London
This revelation also comes after Wood received the Freedom of the City of London accolade recently.
Wood said that he was "humbled and honoured" to receive this award. Wood took to social media to express his delight winning this accolade.
As a child, I saw the city from the canals and over the years I've seen it from many different perspectives".
Wood also added,"Despite my career in music and art taking me all over the world, I am never happier than when coming home to this great city where I was born".
"It is a lovely surprise to be recognised with this award and it has made me, Sally, and my twin girls Alice and Gracie very proud. I very much hope to come and meet you in person at the Guildhall, when circumstances allow".  You can read more from that speech in full right here.
Speaking of the Rolling Stones, Wood's bandmate Mick Jagger also recently explained why he has not finished writing his memoirs. The frontman called the whole process "simply dull and upsetting".
More on that report here.