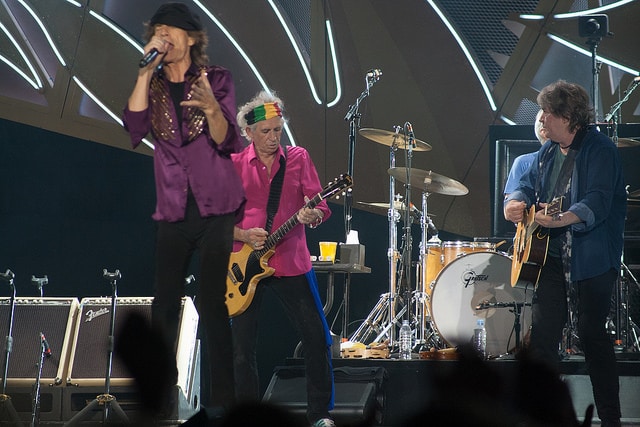 The Rolling Stones are set to release a compilation of the blues music that has inspired them throughout their career. The unstoppable rock band have joined forces with BMG and Universal to put together their favourite cuts,  which has resulted in 'Confessin' The Blues'. The curated 42 track double-disc record will be released on November 9th. A full track listing and promo for the mega comp is available below.
One of the most noteworthy tracks is Muddy Waters' 'Rollin'Stone' which gave rise to the band's moniker in the 1960s. Singer Mick Jagger spoke of his early love for the genre: 'The first Muddy Waters album that was really popular was Muddy Waters at Newport, which was the first album I ever bought'.
"When I was around three years old, anything with a sound, I would try to play it. I'd take my stick and beat on the ground tryin' to get a new sound and be hummin' my little baby song along with it." – MW #MuddyWaters #Blues #ChicagoBlues #Legend pic.twitter.com/u056YZAIyo

— Muddy Waters (@muddyofficial) April 18, 2018
Also featured on the blues compilation are the likes of B.B King, Chuck Berry, Eddie Taylor, Jimmy Reed and a lot more. Speaking about the blues' influence on music, Keith Richards said, 'If you don't know the blues… there's no point in picking up the guitar and playing rock and roll or any other form of popular music.' Stones guitarist Ronnie Wood created the artwork for the release which 'depicts the raw passion and emotion the blues artists channelled into their music'.
Here's the full tracklist for 'Confessin' The Blues',
Disc 1 
Muddy Waters – Rollin' Stone
2 Howlin' Wolf Little – Red Rooster
3. John Lee Hooker – Boogie Chillen
4. Little Walter – Hate To See You Go
5. Chuck Berry – Little Queenie
6. Bo Diddley – You Can't Judge A Book By It's Cover
7. Eddie Taylor – Ride 'Em On Down
8. Slim Harpo – I'm A King Bee
9. Magic Sam – All Your Love
10. Elmore James – Dust My Broom
11. Little Walter – Just Your Fool
12. Muddy Waters – I Want To Be Loved
13. Big Bill Broonzy – Key To The Highway
14. Robert Johnson – Love In Vain Blues
15. Mississippi Fred McDowell – You Gotta Move
16. Jimmy Reed – Bright Lights, Big City
17. Big Maceo – Worried Life Blues
18. Little Johnny Taylor – Everybody Knows About My Good Thing (Part 1)
19. Howlin' Wolf – Commit A Crime
20. Otis Rush – I Can't Quit You Baby
21. Jay McShann & Walter Brown – Confessin' The Blues
Disc 2
Howlin' Wolf – Just Like I Treat You
2. Little Walter – I Got To Go
3. Chuck Berry – Carol
4. Bo Diddley – Mona
5. Muddy Waters – I Just Want To Make Love To You
6. Elmore James – Blues Before Sunrise
7. Eddie Taylor – Bad Boy
8. Boy Blue – Boogie Children
9. Jimmy Reed – Little Rain
10. Robert Johnson – Stop Breakin' Down Blues
11. Reverend Robert Wilkins – The Prodigal Son
12. Lightnin' Slim – Hoodoo Blues
13. Billy Boy Arnold – Don't Stay Out All Night
14. Bo Diddley – Craw Dad
15. Dale Hawkins – Suzie Q
16. Amos Milburn – Down The Road Apiece
17. Howlin' Wolf – Little Baby
18. Little Walter – Blue And Lonesome
19. B.B. King – Rock Me Baby
20. Buddy Guy – Damn Right I've Got The Blues
21. Muddy Waters – Mannish Boy