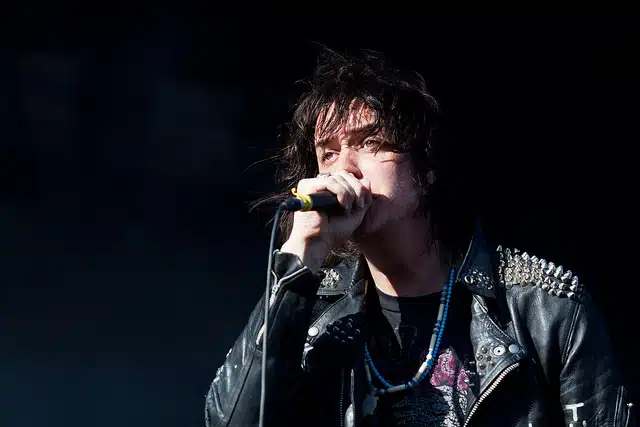 The Strokes have been announced as the headline act for the 15th annual Primavera music festival in Barcelona next year.
The New York rockers have played sporadic concerts over the past twelve months in America, it was the first time they've played live together since 2011.
This is the first time in ages a European gig has been scheduled. The news broke when the event organisers unveiled a giant banner featuring The Strokes' logo on Passeig del Born in the Catalan city.
As pointed out by fan site The Strokes News, a similar stunt was pulled with Arcade Fire a year ago and the group were later confirmed as a headlining act for Primavera Sound 2014.
Confirmado! @thestrokes primer cabeza de cartel del @Primavera_Sound #PS15 Qué os parece? pic.twitter.com/4k0uCoaCaQ

— IndieGentes (@IndieGentesTV) November 11, 2014
The Strokes have speculated that they are ready to make another album in the new year. Singer Julian Casablancas revealed that the band are planning on meeting up to write new material in January.
The frontman spilled the beans on BBC 6 Music this week, when chatting about the follow-up to 2013′s Comedown Machine.
Casablancas said: "In January we might meet up and work on some ideas. Everyone is psyched. Everything is in a really cool place."
"We haven't started on anything, but it was cool and we played some shows and the vibe is finally… I don't know if we ever had that good a working friendship foundation [in our] work relationship, but now we finally have that. We'll always have the creative vibe."
The singer recently released his second solo album Tyranny with his band The Voidz. The new record sounds like heavy, gritty and punk, with some Strokes-inspired guitar work. Casablancas describes Tyranny as a "protest record."
The album, which is the follow-up to 2009′s Phrazes For The Young, is Casablancas' first with his new backing band The Voidz. Watch their first video 'Where No Eagles Fly' here.