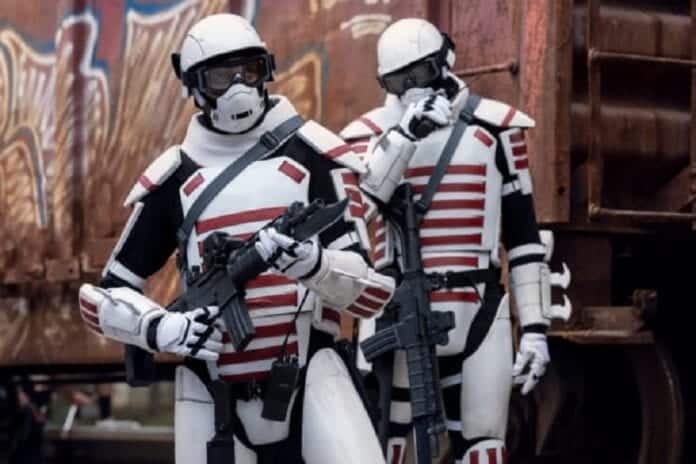 A new trailer for season 11 of The Walking Dead has been released and a new location for the final season has been teased.
No air date has been released but AMC dropped a short teaser clip after airing episode 20 of season 10 last night which offers some insight on where the series will finish.
You can check out the new trailer below.
In the new footage, a message on a wall that looks like a train station reads: "If there is a god he will have to beg for my forgiveness."
According to Den Of Geek, Robert Kirkman's original comic book series culminates in a settlement called 'The Commonwealth'.
This settlement contains 50,000 settlers and has a thriving economy with restaurants. There is also a legal system and a baseball league in 'The Commonwealth'.
In the latter episodes of The Walking Dead, there have been hints that some settlements have returned to some sort of civilisation.
Rick Grimes, the series main character was whisked away in a helicopter as he departed the show. Grimes, played by Andrew Lincoln is set to feature in a film trilogy that will begin shooting soon. You can read Radio Nova's report on it here.
As the Den of Geek notes, the train station and the sound of a train suggest that society has been rebuilt to some degree in The Walking Dead.
It promises to offer an intriguing end to one of the most revered shows in recent times.
The publication writes:
"Of course, this teaser could be entirely metaphorical and meant to suggest that season 11 will take place in a more urban environment without a literal subway system.
"It's more likely, however, that this teaser is intended to establish urban vibes or that the plot will make a pitstop in another major city at some point. Either way, the teaser sets an interesting new tone for this final season."
Along with the Rick Grimes movie trilogy, there are plans for spin-off shows based on Darryl Dixon (Norman Reedus) and Carol Peletier (Melissa McBride).
The first spin-off show, 'Fear The Walking Dead' is getting its own spin-off called 'Dead In The Water' that will detail a submarine's crew battle for survival.
Photo credit: AMC.