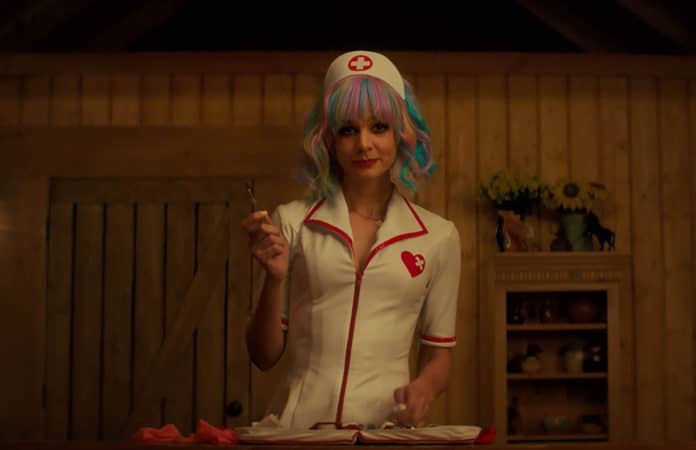 Written, Directed & Produced by Killing Eve's showrunner Emerald Fennell, PROMISING YOUNG WOMAN is brilliant, original, terrifying and sad.
It's available exclusively on Sky Cinema and NOW but I just cant spoil it and tell you too much other than…
It is nominated for 5 Oscars including Best Picture, Best Actress, Best Director, Best Original Screenplay, Best Editing.
Winner of 2 BAFTAs
Stars a terrific performance by Carey Mulligan
Features a spectacular soundtrack 
Also produced by MARGOT ROBBIE
It's visionary director Fennell also happens to play Camilla in Netflix's The Crown and we spoke about the film *as much as we could!
PROMISING YOUNG WOMAN gets ★★★★★ and is available exclusively on Sky Cinema and NOW
Everyone said Cassandra Thomas (CAREY MULLIGAN) was a promising young woman … until a mysterious event abruptly derailed her future. Now, she's a medical school dropout trapped in stasis. Blonde, beautiful and blessed with a killer intellect, Cassie's not interested in climbing the corporate ladder or marrying Mr. Right. Instead, she's seemingly content to while away her days making lattes with her coffee shop colleague Gail (LAVERNE COX), much to the profound disappointment and deep concern of her parents (JENNIFER COOLIDGE, CLANCY BROWN). All they want is for their almost 30-year-old daughter to move on with her life, and to move out of their house.
By night, Cassie performs a ritual of her own invention. Going to bars and dance clubs alone in the wee hours, she pretends to be dangerously intoxicated, helpless to defend herself from anyone who might wish her harm. Inevitably, there's a man who decides to make sure she gets home safely. Yet he also inevitably lets his own desires take priority over Cassie's well-being, not realising that he's simply the latest to fall prey to Cassie's nefarious schemes—he's about to be taught a lesson he's unlikely to forget anytime soon.
But whatever small satisfaction Cassie takes from her late-night rendezvous, it isn't enough to quell the storm of rage and sorrow inside her. Until one day, handsome pediatric surgeon Ryan (BO BURNHAM), an acquaintance from her med school days, happens into the coffee shop and upends Cassie's cycle of destruction. As she begins to develop feelings for him, she's pulled back toward her own past and the trauma that forever changed the course of her life.
Will she balance the scales and find her own kind of happy ending? Or will her mission of vengeance take an unimaginable toll?