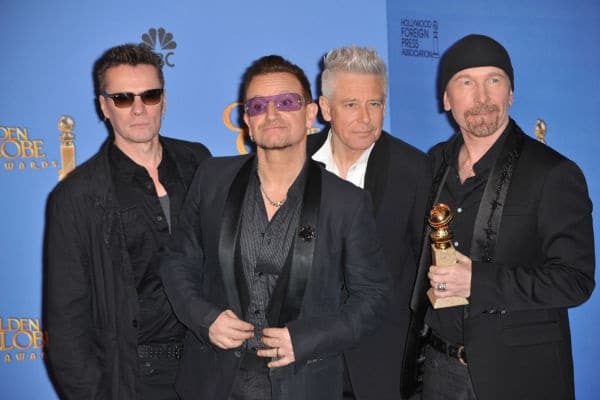 Would you like to listen to the article instead of reading it?
U2 have stated that their Las Vegas residency will be unprecedented, insisting that "there's nothing else like it in the world, and won't be for many many years". 
The band have announced their dates for the residency, which will be the first of its kind to take place at the MSG Sphere in Vegas.
This residency has been described as "a first-of-its-kind live music experience from the world's biggest rock band in the world's most cutting-edge venue", and will kick off on Friday 29 September 2023.
U2 will perform at the venue the following day, before taking in three shows in October. The band will perform on the 5th, 7th and 8th of that month. Find out more on this here.
"built for immersive experiences"
Since then, U2 band members Bono and the Edge have spoken about the venue itself, revealing that the Sphere was built to cater for music shows, as opposed to an arena which was built for sports.
"Most music, over playing a theater, most music venues are sports venues. They're stadiums, they're arenas and built for sports. They're not built for music, they're not built for art", Bono told Zane Lowe.
He also added, "So this building was built for immersive experiences in cinema and performance. It was not built for [sports], you can't come here and see an ice hockey game". 
"There are no speakers", he continued. "The entire building is a speaker. So wherever you are, you have perfect sound is the plan," while Edge chipped in to add "There's nothing else like it in the world and won't be for many, many years". 
"cutting edge"
Speaking alongside Bono, the Edge also claimed that the arena will redefine sound and live performances in the future.
"So what this has been designed to achieve is completely immersive sound", he said. "So you've got the main array of speakers is above our heads, but throughout the entire building are speakers that are focused so that you have the capability of placing the audience inside a whole 360 degree sonic spectrum". 
The Edge also added, "This can do that kind of Atmos mixing in a live context, which has never ever been possible before. So not only is the visual side of it groundbreaking, but the audio side of it is again, cutting edge".
Despite the excitement and euphoria surrounding this residency, The Edge has assured fans that this will not replace touring for U2.
"Touring itself is not over. Don't forget it's 18,000 to 20,000 people a night, so it's not like you're not going to be doing a hundred shows", he insisted.
These sentiments were also echoed by Bono.
"We're not touring 'Achtung Baby' anyway. So, with 'The Joshua Tree', we took that album around the world. This will only be here", Bono said.
Tickets for these Vegas shows go on pre sale from April 27. Sign up for that here.