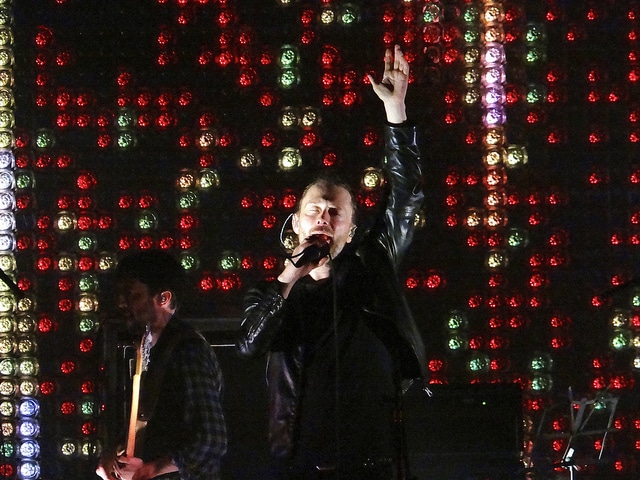 Radiohead's frontman Thom Yorke has certainly enjoyed turning his fans into little detectives, trying to decipher all his clues.
The singer has been tweeting cryptic messages over the past few days, this time posting an image of old Radiohead lyrics.
The picture shows lyrics to Radiohead's song 'A Wolf At The Door' with some additional new lines.
— Thom Yorke (@thomyorke) September 23, 2014
The other day, producer Nigel Godrich revealed an image of a mysterious white vinyl, sparking speculation about new material from the Oxford lads.
Next to the record appears to be artwork designed by Stanley Donwood, the group's long-time collaborator who has designed all of their album and poster art since 1994.
It would seem unlikely that it's new music from the group, as they've only just returned to the studio to begin working together on a new album. In an interview with BBC Radio 6′s Mary Ann Hobbes, Greenwood said, "We're going to start up in September, playing, rehearsing and recording and see how it's sounding."
Some have said that Yorke is hinting at but new music from his side band Atoms For Peace. Yorke's side project features Red Hot Chili Peppers bassist Flea, longtime Radiohead producer Nigel Godrich (keyboards, synthesisers, guitars) and R.E.M drummer Joey Waronker.
Although, the simplest explanation is usually the most accurate. This could all be some wind-up to get Radiohead fans and music journalists worked up over nothing. Thom Yorke might just be a sadist, he thinks it would be hilarious to take a photo of a blank white record and see the Internet go wild with different theories.
We will wait and see what else Yorke has in store.
— Thom Yorke (@thomyorke) September 23, 2014