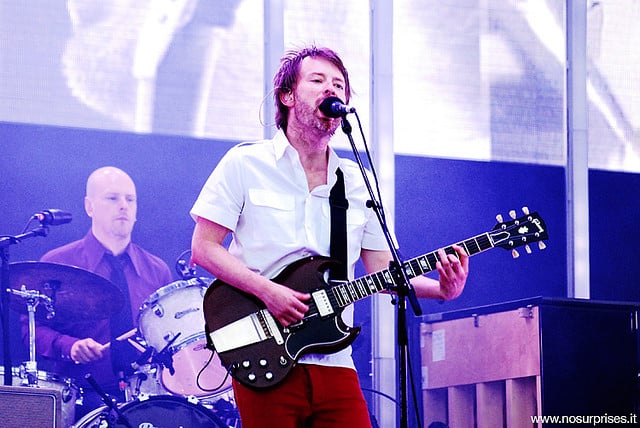 Hand written lyrics from Thom Yorke are set to go up for sale. The words from the Ok Computer track 'Airbag' are to be put up for sale at auction.
The original draft of the lyrics will be sold by Dreweatts & Bloomsbury Auctions on March 18th with the money raised going to Oxfam. It is expected to raise £800-£1200 (€1,045-€1560).
His lyrics are written on the inside cover of a copy of William Blake's Songs of Innocence and Experience owned by Yorke. Throughout the book Thom Yorke underlines words and annotated the margins, especially to Nurse's Song, A Cradle Song and The Divine Image, with corrections and revisions.
'Airbag' is the opening track on the album and it begins with the line "In the next world war, In a jackknifed juggernaut, I am born again." The song was inspired by a car crash that Yorke was in with his girlfriend in 1987. He was uninjured but his girlfriend had a damaged cervix because of it.
It had an impact on Yorke's view of cars and how dangerous they can be. Speaking about the song he said "We're just riding on those things – we're not really in control of them."
You can check out the image of Thom Yorke's hand written lyrics down below.
Photo Credit: Alessandro Pautasso