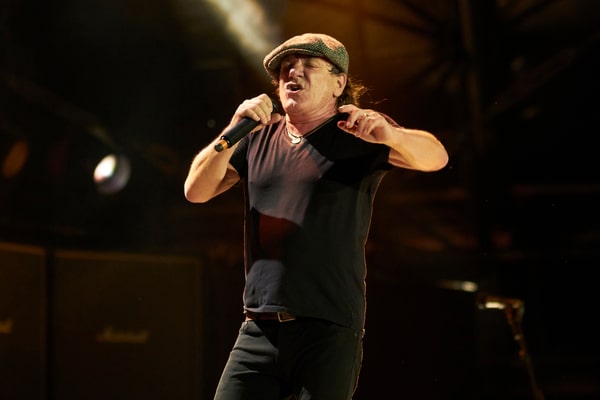 Those of us that use TikTok? Have you's come across JGGLS? This young man creates fake job interviews with famous musicians, by using parts of their most famous tracks. His CV has included Kanye West and Taylor Swift. This time, he used AC/DC's Brian Johnson.
You can check out that TikTok video below.
In this fictitious job interview, JGGLS asks Johnson "Hello Mr Johnson, what type of work do you specialise in?".
Music begins, before Johnson responds by saying "Dirty Deeds". JGGLS says, "That is perfect, we need someone to do the dirty work around the office".
For his next question, JGGLS asks, "So how long are you willing to work to get the job done?".  "All Night Long!", is Johnson's response.
The video ends with Johnson using dynamite to set himself on fire, while AC/DC's "TNT", plays in the background.
See what you think of the effort yourselves below.
Brian Johnson replaced Bon Scott
Brian Johnson joined AC/DC following the death of Bon Scott in 1980. It was recently reported that the late singer would be honoured with the launch of a new fan-focused website to mark Scott's 75th birthday.
Fans will be able to write testimonials about seeing or meeting Scott who fronted AC/DC from 1974 to 1980.
"On the occasion of what would have been his 75th birthday, the Bon Scott Estate (Ron's two brothers and his nephew) are proud to launch the new website and take this important step toward elevating Bon's legend and tending to his legacy. Bon was a unique singer, songwriter and character that the world should never forget", the Bon Scott Estate said.
Check it out here. 
AC/DC are also releasing their own craft beers later this month. They will offically launch over the weekend of July 23/24.
The drinks will be a collaboration between AC/DC and two brewries Cailcraft Brewing Co and KnuckleBonz ince.
The two breweries released a joint statement saying they are, "excited to announce this is the first in a series of AC/DC branded beers to be featured in this unique collaboration to bring quality beverages to the music superfan". More on that here.