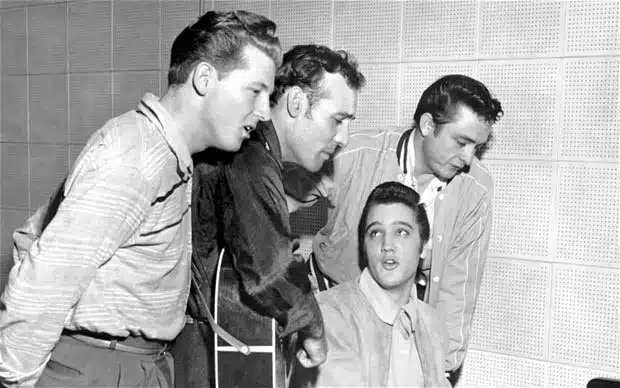 Every day on Radio Nova, just before 11am, we play a couple of songs key to "today in music history" Have a listen! But for now – here's some light reading and watching. July 12th in Music History looks like this.
1954, 19 year old Elvis Presley signed a recording contract with Sun Records. Sam Phillips from Sun Records originally wanted to use Elvis to make demos of songs meant for other artists, but soon realized that here was the man who could bridge the gap between white and black performances. Imagine having the foresight to see that in 1954!
1962, The Rolling Stones made their live debut at the Marquee Jazz Club, London. Billed as The Rollin' Stones, they were collectively paid £20 for the gig, the equivalent of around €360 in todays money
1964, George Harrison driving down the Kings Road in London, crashes his new Jag E Type. Fans grab pieces of broken headlight to keep as souvenirs and as George is talking to the police, try get his autograph! Nova listener Mandy McCarthy shared this picture of her dad Tony Kelly, at age 26, towing George's car away as snapped by The Mail!
And before Mariah Carey and her squeeking, there was Minnie Riperton and her glass shattering high notes, who died today in 1979, from Cancer, aged 31. The Stevie Wonder produced 'Loving You' gave Minnie a US No.1 single in 1975. She was also a backing singer for Etta James, Bo Diddley, Chuck Berry and Muddy Waters.
2008, Rolling Stone Ronnie Wood left his wife of 23 years and moved in with an 18-year-old Ukrainian cocktail waitress. Ronnie met the young one while out on the lash and whisked her off to his fancy place, Sandymount House near Sallins in Kildare!
2020, English singer-songwriter Judy Dyble died age 71. She was a founding member of Fairport Convention.
Happy Birthday to Fleetwood Mac-er Christine McVie, Wilko Johnson, former stick man for Kiss, Eric Carr and Muse drummer Dominic Howard also celebrating.
Here's Dom hard at it, wait till he springs into action at 30 sec point.
Check out the weekly Podcast. Marty Miller's This Week in Music History.