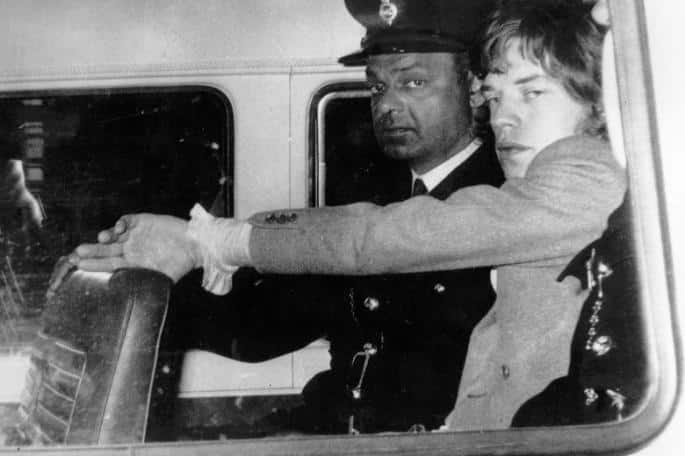 Every day on Radio Nova, just before 11am, we play a couple of songs key to "today in music history" Have a listen! But for now – here's some light reading and watching. June 27th in Music History looks like this.
1967  Mick Jagger was found guilty of illegal possession of drugs found in his jacket. He was remanded overnight, his prison number 7856. Jagger requested books on Tibet and modern art and two packs of Benson & Hedges cigarettes. (Photo:The Times London)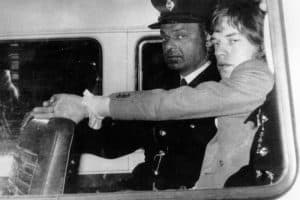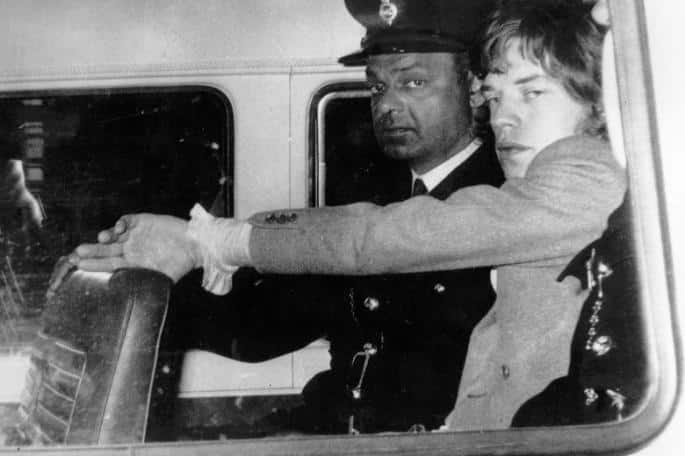 1968 Elvis Presley appeared on an NBC TV show that was billed as his "comeback special". The show featured the King performing on a small, square stage, surrounded by a mostly female audience. Presley (looking amazing!) was outfitted in black leather and performed many of his early hits.
1970 The newly formed Queen featuring Freddie Mercury (probably still known as Freddie Bulsara) on vocals, guitarist Brian May, drummer Roger Taylor and Mike Grose on bass played their first gig in Cornwall. They were billed as Smile, Brian and Roger's previous band, for whom the booking had been made. They played an early version of 'Stone Cold Crazy', which would end up on Sheer Heart Attack in '74.
1980  Led Zeppelin appeared in Nuremberg, Germany during their last ever tour. After the group had played just three songs, drummer John Bonham collapsed on stage, the rest of the gig was cancelled.  Bonham would be dead by September.
1994 Embracing the internet, Aerosmith became the first major band to give fans free music online. There was no Apple music, Spotify etc back then, Head First was a b side from "Get A  Grip"
2002 One day before the scheduled first show of The Who's 2002 US tour, bass player John Entwistle, died aged 57 in his hotel room at the Hard Rock Hotel and Casino in Las Vegas. Entwistle had gone to bed that night with a stripper, who woke at 10am to find Entwistle cold and unresponsive. The Las Vegas medical examiner determined that death was due to a heart attack induced by an undetermined amount of cocaine.
Don't forget you can now get This Week in Music History every Friday from Nova.ie and Radio Nova.
To subscribe to the podcast, just click here