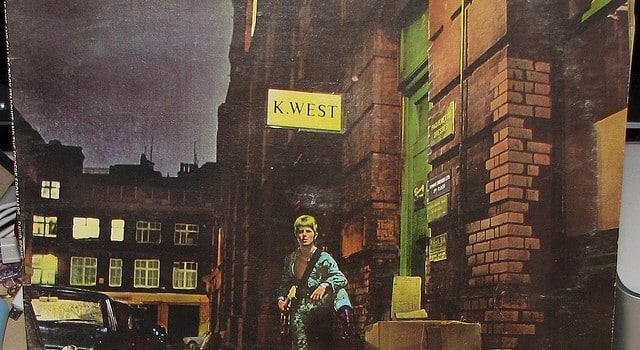 Would you like to listen to the article instead of reading it?
Every day on Radio Nova, just before 11am, we play a couple of songs key to "today in music history" Have a listen! But for now – here's some light reading and watching. March 27th in Music History looks like this.
1966 During an UK tour, Roy Orbison fell off a motorbike while scrambling in Birmingham fracturing his foot. He played the remaining dates sat on a stool and walking on crutches.
1967 John Lennon and Paul McCartney were awarded the prestigious Ivor Novello award for 'Michelle', the most performed song in the UK in 1966.
1972 Elvis Presley recorded what would be his last major hit, 'Burning Love'
1976 Paul McCartney and Wings were forced to postpone forthcoming US tour for three weeks after guitarist Jimmy McCulloch fell in his hotel bathroom and broke a finger.
1979 Eric Clapton married Patti Harrison (the ex wife of George) in Arizona. Patti applied for a divorce in 1988.
1984 Bryan Adams went into Little Mountain Sound, Vancouver, Canada to record 'Run To You' for his fourth studio album, Reckless. I wonder if that is the reason he was called the "Groover from Vancouver" Bryan is from Ontario – Whole other side of Canada!
1987 U2 performed from the roof of a store in downtown LA to make the video for 'Where The Streets Have No Name', attracting thousands of spectators and bringing traffic to a standstill. The police eventually stop the shoot. Amazing footage here.
2000 Singer, songwriter, poet and actor, Ian Dury died after a long battle with cancer aged 57. Dury had been disabled by polio as a child.
2007 The wife of former Stone Temple Pilots and Velvet Revolver singer Scott Weiland was arrested on suspicion of burning over $10,000 of his belongings outside their home after police in southern California found a bin of smouldering clothes. Earlier that day, the couple left two rooms vandalised after an argument at a luxury hotel.
2012 David Bowie's landmark album Ziggy Stardust was celebrated with a blue plaque in central London. Spandau Ballet star Gary Kemp, unveiled a plaque at the spot where the cover of the 1972 release was shot. In London? The spot is on Heddon Street, just off Regent Street, now a pedestrianised area brimming with bars and restaurants.
Birthdays today include Tony Banks of Genesis and Andrew Farris of INXS.
Don't forget you can now get This Week in Music History from Nova.ie and Radio Nova.
To subscribe to the podcast, just click here