Would you like to listen to the article instead of reading it?
Every day on Radio Nova, just before 11am, we play a couple of songs key to "today in music history" Have a listen! But for now – here's some light reading and watching. March 6th in Music History looks like this.
1951, Welsh composer, singer and actor Ivor Novello died aged 58. Of course the name sake for the annual music awards now in the UK.
Have a look at the size of Ivor Novello's funeral here.
1966, The Rolling Stones started recording sessions for their tenth UK single 'Paint It Black' at RCA studios in Hollywood.
1970 Charles Manson released an album called 'Lie' to help raise money for his defence in the Tate murder trial. The album jacket was made to look like a cover of Life magazine with the letter f removed from the word Life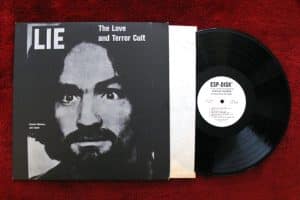 1970, David Bowie released the single 'The Prettiest Star' in the UK as a follow-up single to 'Space Oddity'. The track featured Marc Bolan on guitar
1971, Led Zeppelin appeared at the National Boxing Stadium, Dublin, Ireland, the group's first show in Dublin, where they played 'Stairway To Heaven' live for only the second time. From Dublin in 71:
1998, Oasis singer Liam Gallagher appeared handcuffed in a Brisbane court on charges of head butting a fan during a gig in Australia. Gallagher was released on bail.
2004, Diane Richie, the estranged wife of singer Lionel Richie, went to court seeking $300,000 (£176,500) a month in maintenance support!!
2021, Lou Ottens died at the age of 94. Lou was the inventor of the tape cassette.
Guy Garvey and David Gilmour's birthdays today! Both legends.
Don't forget you can now get This Week in Music History from Nova.ie and Radio Nova.
To subscribe to the podcast, just click here