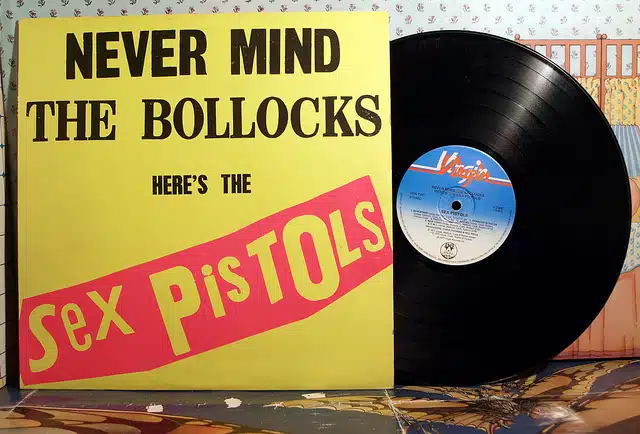 Every day on Radio Nova, just before 11am, we play a couple of songs key to "today in music history" Have a listen! But for now – here's some light reading and watching.  November 5th in Music History looks like this.
1956, "The Nat King Cole Show" debuted on NBC-TV in America. The Cole program was the first of its kind hosted by an African-American – Didn't last long as it seemed the network couldn't get a sponsor..
1977, The manager of the Virgin record store in Nottingham, England was arrested for displaying a large poster advertising the new Sex Pistols album, 'Never Mind The Bollock's, Here's The Sex Pistols'. High street stores banned the album after police warned they could be fined under the 1898 indecent advertising act.
https://www.facebook.com/bbceastmids/videos/1933477010002713/
1982, Channel 4 TV's The Tube had its first showing. Presented by Paula Yates and Jools Holland, the show featured The Jam and an interview with Mick Jagger.
1983, Topper Headon of The Clash was arrested for walking his dog while drunk on London's Fulham Road.
2005, Guitarist Link Wray died aged 76. Wray was credited with inventing 'fuzz' guitar after punching a hole in a speaker giving him a distorted guitar sound. Famous for his 1958 US No.16 single 'Rumble' which was banned on several radio stations, on the grounds that it glorified juvenile delinquency! Quite the job considering this was a track with no lyrics.
2014, The funeral for Jack Bruce was held in London, attended by his former Cream bandmates Eric Clapton & Ginger Baker.
November 5th Birtdays include, Art Garfunkel, Gram Parsons, Bryan Adams & Ryan Adams!
 Don't forget you can now get This Week in Music History every Friday from Nova.ie and Radio Nova.
To subscribe to the podcast, just click here