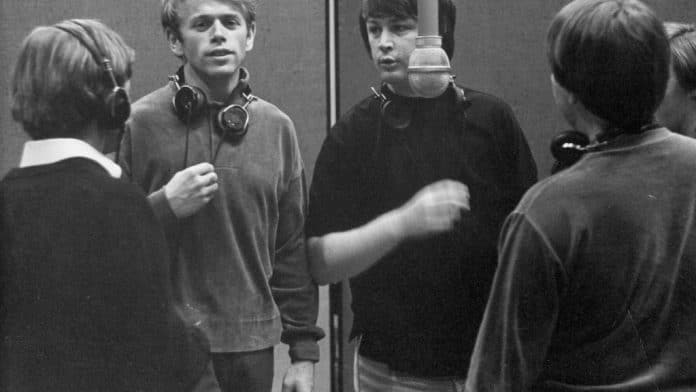 Every day on Radio Nova, just before 11am, we play a couple of songs key to "today in music history" Have a listen! But for now – here's some light reading and watching. October 9th in Music History looks like this.
1958, Eddie Cochran recorded the classic song, 'C'mon Everybody', which became a 1959 UK No.6 single for Cochran and a 1979 hit for the Sex Pistols.
1964, The Beach Boys recorded 'Dance Dance Dance', with Glen Campbell playing the lead guitar intro. It would go on to become their twelfth US Top 40 hit.
1969, For the first time in the history of the show, the BBC's Top Of The Pops producers refused to air the No. 1 song, 'Je T'aime… Moi Non Plus', the erotic French language love song by Serge Gainsbourg and actress Jane Birkin. The song, an instrumental with the voices of Gainsbourg and Birkin apparently recorded in the act of love and superimposed over the top, caused such a stir.
1973, Elvis Presley and Priscilla divorced after six years of marriage. Priscilla was awarded property, $725,000 cash and $4,200 a month support.
1985, Marking what would have been John Lennon's 45th birthday, Yoko Ono formally opened the three and a half acre garden at the Strawberry Fields site in New York's Central Park.
2008, Paul McCartney, (a vegetarian for 30 years), was said to be furious when he heard that a Liverpool branch of McDonald's restaurant displayed his picture, accusing them of using it to attract customers. Sir Paul was quoted as saying "What sort of morons do McDonald's think Beatles fans are?"
Happy Birthdays!
1940, John Lennon
1944, John Entwistle, bassist of The Who
1948, Jackson Browne
1975, Sean Ono Lennon, the only child of John Lennon & Yoko Ono. As featured above in "Watching the Wheels"
Don't forget you can now get This Week in Music History every Friday from Nova.ie and Radio Nova.
To subscribe to the podcast, just click here