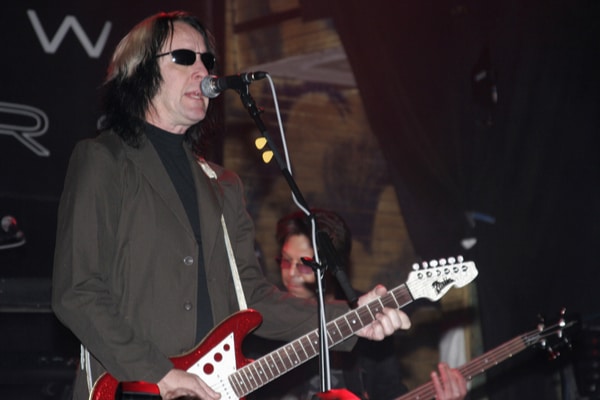 Todd Rundgren will not attend next month's Rock Hall of Fame Ceremony. The ceremony is to take place in Cleaveland.
Instead, the rocker will be performing live at a show in Cincinnati on the evening in question of October 30. Rundgren is to also be inducted alongside the likes of Jay Z, Foo Fighters, Tina Turner and more.
Rundgren is also set to release his new album "Space Force" later this year. This is his first new material since 2017's "White Knight".
 "obviously… not copacetic"
Whilst making this announcement on the Rock and Roll Hall of Fame, Rundgren did admit that his releationship with the organisation has been "obviously… not copacetic".
"I have offered to do something live for them from my venue", Rundgren told Ultimate Classic Rock. "I will stop my show and acknowledge the award and mostly acknowledge my fans, because it's for them". 
"They're the ones who wanted it. And now they've got it. So it's a celebration for them, not so much for me. I've been totally willing to do that", he continued.
"But for me to do something extraordinary for the Hall of Fame would just be hypocritical. You know, I'm too much on the record about my feelings". 
Rundgren has tended to be ambivalent about the Hall of Fame. He has displayed broad indifference towards it, while also labelling the show a "scam" back in Feburary.
Despite his indifference towards the awards, Rundgren has tried to stay relatively quiet since being informed about his upcoming nomination.
"A lot of artists take this seriously", he said. "Just because I don't, doesn't mean I should try and spoil it for them… I would just like it to elapse without any kind of bad vibes or anything being a result of it. I'd just like it to happen and be over with".  
Todd Rundgren is also not the first artist to criticise the Rock And Roll Hall of Fame, with Iron Maiden's Bruce Dickinson having this to say back in 2018.
"It's run by a bunch of sanctimonious bloody Americans who wouldn't know rock and roll if it hit them in the face", Dickinson claimed. "They need to stop taking Prozac and start drinking f*****g beer". 
The organisation received further criticism earlier this year for not including Iron Maiden in the list of inductees. Find out what their CEO Greg Harris had to say on the decision right here.