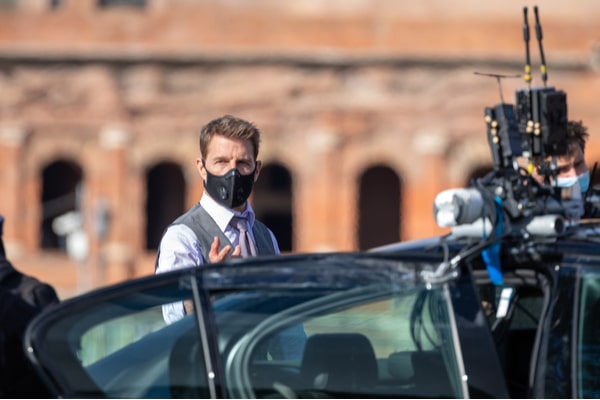 Action man, Tom Cruise reportedly had to call security to the set of Mission: Impossible 7 on a group of trespassers. According to an exclusive interview with The Sun, some trespassers made it onto the set, climbing atop equipment and taking pictures of the set.
Tom and his crew assembled a vast set inside the huge quarry, where they have been able to film extravagantly dangerous stunts. However, production has already been plagued with delays and trespassing thrill-seekers only add to the pressure.
A film insider told The Sun, "The set is so large and open that it has been impossible to close it all off. So, trespassers have been getting in and attempting to scale the rigs and equipment set up for the stunts. It is a health-and-safety nightmare. Police were called to one incident last week and then Tom was forced to take action when it happened again.
"This time two intruders were spotted clambering up the set, leading to security rushing to get them down. The set looks exciting, and these people think it's funny trying to get pictures of themselves there, but they don't realise how dangerous it is. Extra security might have to be drafted in. Along with it being a safety nightmare, Tom and the team don't want any delays to filming."
Following the security breach, extra precautions will now be taken by crew to avoid any further delays to the film's production. The action movie has been plagued by 10 months of setbacks, with the release date now pushed to May 2022.
It was recently reported that Tom Cruise went into an almighty strop about some overhanging branches blowing around whilst filming in a windy field in North Yorkshire. According to reports, Cruise grew frustrated with the shrubbery as he tried to compose himself between scenes.
"There isn't much Tom can't put up with," a source said. "So, imagine how baffled everyone was when there was such a fuss made over a tree. The branches hanging over were knocking on the roof of the trailer which Tom and some of the other cast had been using". Apparently, the noise was becoming beyond irritating and they couldn't stand it any longer. Two local lads were called out to sort out the problem and cut down the offending branches".