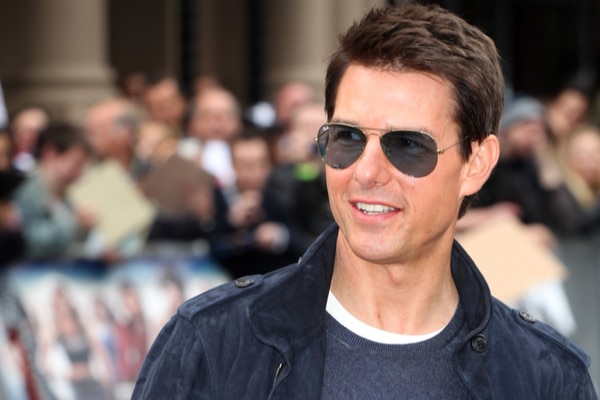 Tom Cruise was awarded the Honourary Palme d'Or at the Cannes Film Festival yesterday.
This is the highest honour that the Cannes Film Festival can bestow, with previous winners also including Quentin Taratino and Jane Campion.
Cruise received this award ahead of the screening for his film Top Gun: Maverick. This film also arrives on screens next week (May 25).
The actor had been scheduled to be awarded this honour at the Cannes Festival in 2020. However, it was cancelled due to the pandemic.
Speaking at the event, Tom Cruise emphatically dismissed the idea of Top Gun being released on streaming platforms.
When asked if he ever considered streaming the film in 2020 and 2021, Cruise stated, "That was not going to happen, ever". 
Adding, "Look at us all together, we're all united, we all speak different languages, different cultures… but we're able to come together around a shared experience," he said of his love for movie theatres". 
Cruise: An Ambassador For Cinemas 
Tom Cruise has become an ambassador for cinemas, hoping to play a key part in their return.
Along with the arrival of Top Gun: Maverick next week, two further Mission Impossible Films are to arrive in 2023 and 2024.
Cruise also added, "I go to cinemas and there's people there who are serving the popcorn and running these theatres. I tell them: 'I know what you're going through, just know we're making Mission: Impossible, Top Gun is coming out…". 
Cruise is such a fan of cinemas, that he even sneaked in to have a look at Christopher's Tenet during the height of the pandemic in the Summer of 2020, to boost sales.
'Iceman'
Speaking of Top Gun, another actor who will feature in the film is Val Kilmer.
Kilmer was diagnosed with throat cancer in 2015, which resulted in the actor losing his voice.
He was forced to have a tracheotomy. This procedure involves an incision of his neck, which left scars which he covers with scarves.
However, thanks to AI technology, Kilmer was able to reprise his role as Tom 'Iceman' Kazansky for the film.
British AI company Sonatic used old recordings from Kilmer's acting career, to recreate his voice in a method called 'Photoshop for Voice'.
"I'm grateful to the entire team at Sonantic who masterfully restored my voice in a way I've never imagined possible", Kilmer said, reacting to hearing his voice.
He added, "As human beings, the ability to communicate is the core of our existence and the effects from throat cancer have made it difficult for others to understand me".
"The chance to tell my story, in a voice that feels authentic and familiar, is an incredibly special gift".