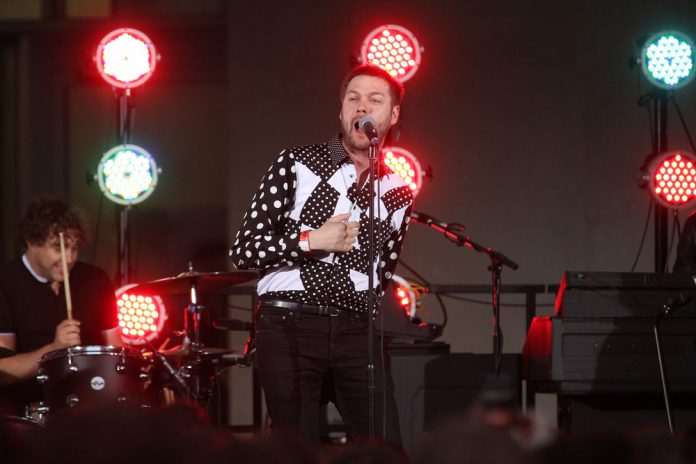 Former Kasabian frontman Tom Meighan has been removed from the band's touring and merchandise companies.
Meighan left the band in July of this year. Soon after that announcement, it was revealed that the singer was appearing in court on assault charges against his partner Vikki Ager.
Meighan pleaded guilty and was sentenced to 200 hours of unpaid work.
It has now been revealed, he has been removed from Poltergeist Touring Limited Liability Partnership and Silver Bullet Merchandise, the companies who organise Kasabian's live shows and merchandise as of June 30th. It means that Meighan will not receive any future profits.
The music world was confused when Kasabian announced that the singer was leaving the band by "mutual consent". In a statement the band said "Tom Meighan is stepping down from Kasabian by mutual consent. Tom has struggled with personal issues that have affected his behaviour for quite some time and now wants to concentrate all his energies on getting his life back on track. We will not be commenting further."
The next day, on July 7th, Kasabian released a new statement, that expanded on the reasons for Meighan leaving.
"Now that the legal proceedings have been concluded, we can comment on the departure of Tom Meighan from Kasabian."
"No one in the band wanted this to happen. We have all worked so hard for the past twenty three years and had big plans for our future together. We're completely heartbroken. But we were left with no choice but to ask Tom to leave the band. There is absolutely no way we can condone his assault conviction. Domestic violence and abuse of any kind is totally unacceptable"
"As soon as we found out about the charges made against Tom, we as a band made the decision that we could no longer work with him. Unfortunately, we had to hold back this information until he was found guilty in court."
"We were led to believe that Tom would hold his hands up in his statement and tell everyone what he'd done but he chose not to, misleading a lot of fans."
"Ultimately, as much as Tom has hurt us all, we're not the victim in all of this. Domestic violence is something that can never be excused.
Meighan cited he had problems with alcohol and that he was recently diagnosed with ADHD. He said the diagnoses wasn't a cause of his behaviour but helped him understand why he was behaving in the manner he was.
Meighan was the lead singer of the Leicester band since their formation in 1997. Since then Kasabian have enjoyed much critical and commercial success. The band won multiple awards including Q, NME, Brit, and Mojo awards. In 2009 they supported Oasis at Slane Castle. However, it was 2014 that saw the band reach the pinnacle of their career by headlining Glastonbury on the Sunday night of the festival.
Since the summer, there has been little said about the future of Kasabian. Guitarist Serge Pizzorno has been working on other projects and Meighan is working as a solo artist now.