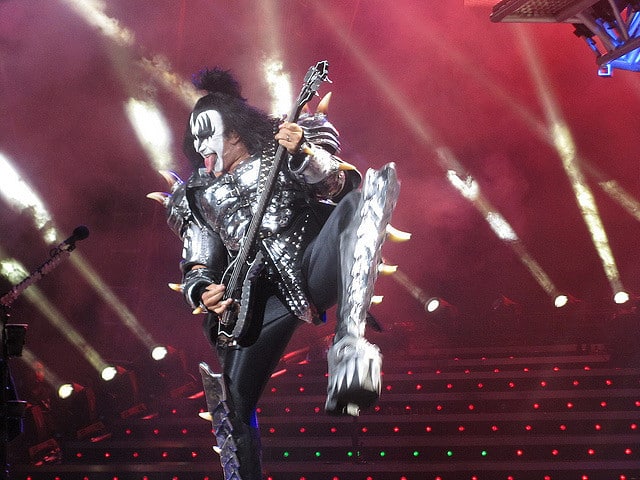 American musician and songwriter, Gene Simmons, known for his attention seeking mannerisms has been reported with having more of a kinder streak according to his Kiss band-mate, Tommy Thayer.
Thayer said the only time he has ever seen his friend with more of a softer side and less of a "centre of the universe" attitude, was when he had the privilege of recording a track with the legendary Bob Dylan in the '90s.
Jay Gilbert sized the opportunity to ask Thayer what was his favourite "industry moments" in the history of his career. Thayer cheerfully reminisced on the best moment he had experienced. He said that "Gene Simmons wrote a song with Bob Dylan, and I'm guessing it was around 1991," he recounted. "One day I got a call from Gene and he says, 'Get a drummer and keyboard player and meet me down at Cherokee Studios at 7PM tonight – we're going to record with Bob Dylan.'
"I'm like, 'Wow, seriously?' I brought my Les Paul and two acoustic guitars, a six and a 12-string that I borrowed from my buddy. I got there, and sure enough, in walks Bob Dylan and his girlfriend. Suddenly, I'm thinking, 'It's Bob Dylan – the guy who influenced the Beatles and Jimi Hendrix. Unreal!'"
However, even after that extraordinary experience, what stood out best for Thayer was the joy and excitement that Dylan had brought to Simmons.  "He won't mind me saying this, but I've never seen Gene be anything but 'I'm Gene Simmons and I'm the centre of the universe.' But around Bob Dylan he was like a kid just happy to be in the room." Not only was Simmons touched by this encounter, Thayer was too. He admitted he took all the strings off the guitar as he wanted them to remember the moment forever. Think we would have all done the same Thayer!
The song they played together is believed to be "Waiting for the Morning Light," which also features Simmons's 2004 album, "Asshole".
What a memory to have!
Photo Credit: Beanhammer
*Written by Hannah Murphy