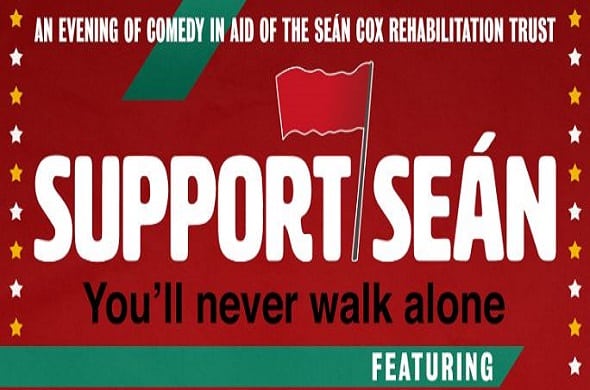 A host of top comedians have announced a stand-up show at the 3arena in the new year, that's to raise cash for Sean Cox.
Sean Cox was left with life-changing injuries after an unprovoked attack before the Champions League semi-final between Liverpool FC and AS Roma last year.
Among the comics that will be on stage on Friday the 10th of January will be, John Bishop, Dara O'Briain, Michael McIntyre and Deirdre O'Kane as well as Tommy Tiernan, Joanne McNally, Jason Byrne and Des Bishop.
An Evening of Comedy in Aid of The Sean Cox Trust takes place at 3Arena on 10 January 2020.

Tickets go on sale Monday 14 October at 9am https://t.co/DxMqYfafbx. @ThreeIreland Pre Sale tickets on sale today, Thursday 10 October at 2pm with #3Plus pic.twitter.com/j2gjMYy2aL

— 3Arena (@3ArenaDublin) October 10, 2019
Seán Cox, the Irishman who suffered severe injuries in an unprovoked attack in Liverpool in April 2018, begins the next stage in his rehabilitation journey this week.
After almost eighteen months of treatment in Ireland, Seán is being transported to a specialist neurological facility in the north of England for an initial twelve week rehabilitation programme focussed on developing Seán's speech and movement.
Providing an update on Seán's condition, his wife Martina Cox said:
"Seán has made progress over the past eighteen months but it is extremely slow. He finds it very difficult to express himself verbally and, while it seems he can hear and understand more, his speech remains very challenged. It is unlikely that he ever will walk again which is difficult to accept for someone as active as Seán used to be."