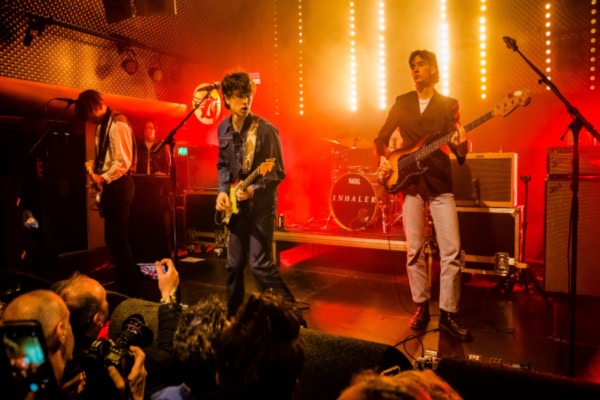 Irish rock band Inhaler have described supporting the Arctic Monkeys at Glastonbury as "a "tick off the bucket list".
The band are fronted by lead singer Elijah Hewson, but their bassist Robert Keating has revealed that they were told of the Arctic Monkeys collaboration last November.
Calling the news "surreal", Keating continued, "We found out about that in November [2021] when we were in America, one of our managers was just like, 'You're going to support Arctic Monkeys in August', and we were just like, 'Yeah but we're not, are we?".
Keating also added, "We just didn't really believe it because we grew up listening to them and loving their music and the fact we actually get to tick that off the bucket list is still kind of surreal. We're not really believing that it's actually going to happen".
Inhaler also performed at Dublin's Fairview Park over the weekend. More on that here.
"until it's over"
Speaking ahead of their gig with the Arctic Monkeys, Elijah Hewson also feels that it will not quite sink in "until it's over".
The Inhaler lead singer also added, "It's like a Glastonbury in itself for us. We always do this festival at home called Electric Picnic, so it's a massive version of that".
"It's pretty special because we haven't played a big headline show in Dublin since before lockdown. This is a big weekend for us".
Robert Keating also remarked, "It's like having a stag do but having to get back for the wedding, so we're not allowed to stay out too late tonight to get back for the show tomorrow".
Back in May, Inhaler even offered a subtle hint that new music was also on the horizon. More on this update here.
Elijah Hewson's father is U2 frontman Bono, who also revealed that he has a half brother. Bono whose real name is Paul Hewson discovered this news when he was fourteen years old.
Inhaler also recently released their new single 'These Are The Days' earlier this month.