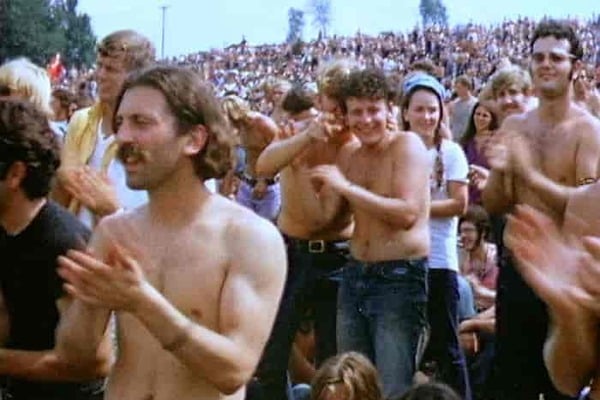 A trailer has been released for an upcoming documentary about the infamous 1999 Woodstock festival.
Directed by Garret Price, Woodstock 99: Peace, Love and Rage tells the story of the 1999 edition of the iconic festival, which descended into violent chaos.
Held in Bethel, New York in August of 1969, the original Woodstock was billed as "three days of peace and music." It was considered the defining event of the hippy counterculture, and is arguably the most iconic festival in live music history. At its peak, 450,000 are believed to have been in attendance. Among the performers were The Who, Jimi Hendrix, The Band and Creedence Clearwater Revival.
Despite an attendance in the hundreds of thousands, Woodstock was practically trouble free. The same can't be said about its 1999 cousin.
Following a 25th anniversary festival in 1994, Woodstock returned in 1999 for a 30th anniversary event. On the bill were the likes of Rage Against the Machine, Sheryl Crow, James Brown, the Red Hot Chili Peppers and Limp Bizkit.
Far from the peace and love of previous editions of the festival, the mood turned ugly early on. Thousands of festival-goers arrived to find they had nowhere to pitch their tents. To get from the festival's East and West stages required a walk of over two miles. Festival vendors were charging extortionate prices for food and drinks. An insufficient number of toilets and showers were available, and most of them became unusable over the course of the weekend. Add sweltering heat that reached a peak of 38 °C and tempers quickly began to fray.
Things turned violent during Limp Bizkit's Saturday night performance as fans embarked on a spree of vandalism. Several physical and sexual assaults occurred that night, with witnesses reporting the gang rape of a young woman in the crowd during Limp Bizkit's set.
While the Red Hot Chili Peppers were playing their Sunday night set, fans began setting bonfires alight, which lead to the local fire department having to tackle a blaze when an audio tower caught fire.
Describing the scenes, MTV's Kurt Loder said "It was dangerous to be around. The whole scene was scary. There were just waves of hatred bouncing around the place. There was a palpable mood of anger."
The documentary, which will debut on US streaming service HBO Max on July 23rd, features interviews with festival organisers Michael Lang and John Scher, members of the public who attended, and performers like Moby, The Roots' Black Thought, Korn's Jonathan Davis and members of The Offspring.
You can watch the trailer for Woodstock 99: Peace, Love and Rage below.