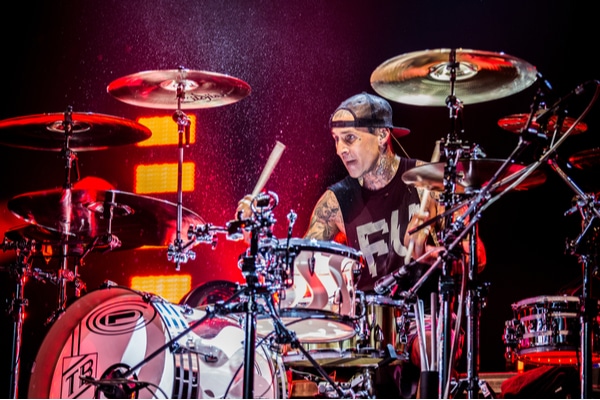 It has been reported that Travis Barker is working on a new reality TV series called 'Inked And Iced'. The show is based on diamond dental implants and tattoos.
'Inked And Iced' will see Barker embark on his new business venture with Dr Tom Connelly.
Celebrities and musicians will receive full-body tattoos, while they simultaneously receive their dental implant procedures. They will be under anasthesia during these procedures.
An air date for Inked And Iced has yet to be confirmed.
"self-expression"
Barker will join forces with This Is Just A Test Media and Bullish Content. According to Aengus James from This Is Just A Test, this series is "about self-expression, the human body as an art canvas, capitalism, eccentricity and entrepreneurship".
James also added, "Travis is a genius. It's the kind of out-of-the-box programming that Paul [Lima] is tremendous at developing".
"We're thrilled to be following Travis and this innovative business as it launches and grows", Paul Lima of Bullish Content also revealed.
This is also not the first time that Travis Barker has ventured into the reality series game. The Blink-182 drummer appeared in MTV's Meet The Barkers which ran for two seasons in 2005 and 2006.
Back in January, Travis Barker also released a cover of Adele's 'Easy On Me'.
Barker posted this video on his Instagram account, giving this track a somewhat unconventional makeover.
The video appears to end with a white drumstick of Barker's breaking, the only glitch on the video. Check out this cover by the drummer here.
He is also expected to appear in the Kardashian's upcoming Hulu series, having announced his engagement to Kourtney Kardashian last October.
The pair celebrated this engagement by dressing up as famous couple Sid and Nancy for a Halloween Party. Check out their attempt to recreate the couple here.