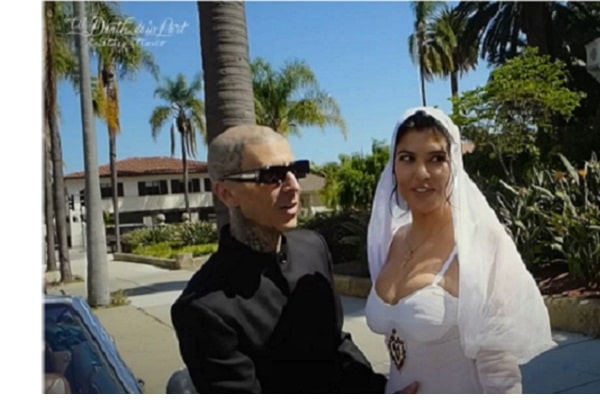 Would you like to listen to the article instead of reading it?
Travis Barker and his wife Kourtney Kardashian have shared what music the happy couple fell in love to.
The pair tied the knot last year, choosing to have as many as three wedding ceremonies.
Beginning with a wedding ceremony in Las Vegas on April 3, the couple also enjoyed wedding ceremonies at Santa Barbara on May 15, before marrying again in Portofino, Italy a week later on May 22.
Barker and Kardashian even had their third installment of wedding bliss filmed for a TV special, which was showcased on Hulu. Check the trailer out below.
The show which was titled 'Til Death Do Us Part, was hailed as "an intimate family event full of beautiful moments".
"the song we fell in love to"
The ceremony itself, also includes a 13 track playlist including songs from the likes of Elvis Presley, The Cure, Etta James, Bright Eyes, and of course Blink-182.
However, when it came to the track that they ultimately "fell in love to", there was only one winner, according to Barker and Kardashian.
The pair unamiously stated that Pink Floyd's 'Wish Were You Here' was the tune that made them realise their love was real. The track featured on Pink Floyd's ninth studio album in 1975.
"This is the song we fell in love to", Kourtney Kardashian explained.
Travis Barker also had this quite intimate detail to add.
"It was three in the morning after making love, completely naked in bed, and it was one of those moments where you're like, staring at someone, and it dawns on you that you're falling in love with the person", he said.
"I've listened to that song since I was really, really young, and I love that it's something I fell in love with her to".
https://twitter.com/travisbarker/status/1646334880220057600
Barker Updates Fans Over Health Scare
2022 was not always plain sailing for Barker, having been admitted to hospital for a "life threatening pamcreatitis" last July.
The drummer stated that he was in hospital for an endoscopy, but experieced "excruciating pain" later on.
"I went in for an endoscopy Monday feeling great", Barker tweeted at the time. "But after dinner, I developed excruciating pain and have been hospitalized ever since".
"During the endoscopy, I had a very small polyp removed right in a very sensitive area, usually handled by specialists, which unfortunately damaged a critical pancreatic drainage tube. This resulted in severe life-threatening pancreatitis. I am so very very grateful that with intensive treatment I am currently much better".
Barker also sustained two finger injuries in the space of two weeks, forcing Blink-182 to postpone several shows until 2024. More on this here.
However, the drummer took to social media to update fans on his recovery from injury, offering a glimmer of hope for music fans worldwide, insisting he was on the road to recovery.