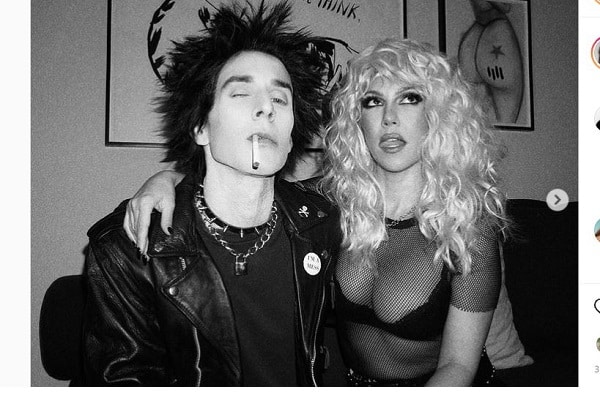 Having recently announced their engagement, both Travis Barker and Kourtney Kardashian recently dressed up for a Halloween party as Sid and Nancy.
Given the back story behind the destructive love story of Sid Vicious and Nancy Spungen, it certainly comes as a surprise. The pair were addicted to heroin.
Bassist for 70s punk band, the Sex Pistols, Sid Vicious was subsequently charged with murdering his girlfriend Nancy Spungen. She was found dead in the couple's hotel room in New York.
A few weeks before he was due to stand trial for murder, Sid died of a heroin overdose. He died on 2 February 1978.
Barker & Kardashian as Sid & Nancy
For the party, Travis Barker donned a spiky black wig, a black leather jacket and of course Sid's famous padlock necklace. Kourtney Kardashian wore a see through fishnet shirt and curley blonde wig.
The Blink-182 drummer took to Instagram to post the pair's effort at impersonating Sid and Nancy. Check it out here.
Kourtney likewise posted a photo of the pair in costume on her Instagram. See here.
This also comes as Travis Barker's bandmate from Blink-182 Mark Hoppus recently shared the delightful news that his cancer is in remission.
Calling it an "amazing day", Hoppus shared this via social media. "Just saw my oncologist and I'm cancer free!!. Thank you God and universe and friends and family and everyone who sent support and kindness and love".
He also added, "I still have to get scanned every six months and it'll take me until the end of the year to get back to normal but today is an amazing day and I feel so blessed. Can I get a W in the chat?". 
Hoppus had previously confirmed that his cancer diagnosis had reached stage 4 back in July. More on this report from Nova here.