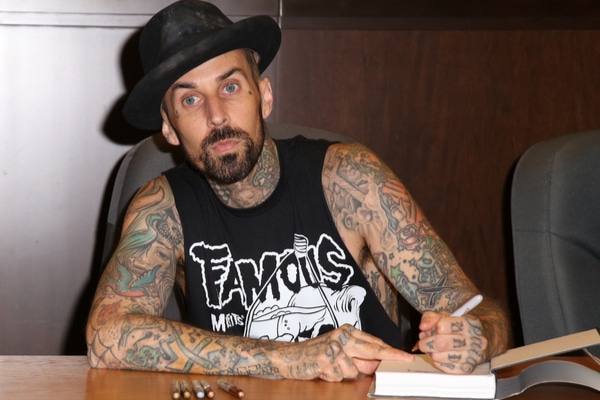 Travis Barker has just released a video of him performing a drumming cover of Adele's track "Easy On Me".
The Blink-182 drummer posted this video on his Instagram account, which shows Barker giving the track an unexpected makeover.
The only glitch to the clip is a white drumstick which appears to break at the end. Check out the full clip below.
"Go easy on me father"
Barker's cover of the track comes after Kanye West released his version of the song at his Sunday Service Choir back in November.
The track was used to pay tribute to DJ, fashion designer and creative director Virgil Abloh who died earlier that day.
On the gospel cover, the choir sang the lyrics, "Go easy on me, father / I am still your child. And I need the chance to / Feel your love around".
Barker & Kourtney as Sid & Nancy
Having announced their engagement last October, Travis Barker and his fiancé Kourtney Kardashian donned an iconic couple's outfit for a Halloween Party, dressing up as Sid and Nancy.
It is somewhat surprising that this is a popular choice for couple's costumes, given the destructive past of Sex Pistols bassist Sid Vicious and Nancy Spungen.
They couple's attempt at dressing up as the culturally iconic pair was quite commendable. Do you agree? Check it out here.
Travis Barker's Blink-182 bandmate Mark Hoppus has already confirmed that he is cancer free.
"Just saw my oncologist and I'm cancer free!!. Thank you God and universe and friends and family and everyone who sent support and kindness and love", he said.
"I still have to get scanned every six months and it'll take me until the end of the year to get back to normal but today is an amazing day and I feel so blessed. Can I get a W in the chat?".