Ruth & Conor went along to check out a brilliant exhibition at the Museum of Style Icons at Newbridge Silverware, Athgarvan Road, Co. Kildare.
'Kurt Cobain & the Gods of Grunge & Rock' features a myriad of items which were once owned by Nirvana front man, Kurt Cobain, as Julien's Auctions bring memorabilia belonging to the Nirvana star and other legends of rock to Ireland for the final time before they go under the virtual hammer at a live and online Julien's auction in Los Angeles on November 3rd and 4th.
Undoubtedly, the highlight of the exhibition is a 1992 MTV Video Music Award Moonman presented to Kurt Cobain for Best New Artist in a Video for the Nirvana song "Smells Like Teen Spirit," the iconic single from the diamond selling album Nevermind. Cobain reportedly kept his Moonman award on display in the upstairs bathroom of his Seattle home, and this item is valued $30-40,000.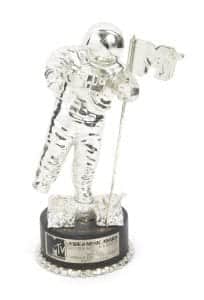 The 1992 MTV VMA awards night in Los Angeles was one of the most remarkable in the history of the event, as Nirvana performed for the first time at the ceremony that year, and their rendition of Lithium became infamous after a public spat between Cobain and Guns 'n' Roses lead singer Axl Rose spilled onto the stage, resulting in Nirvana drummer Dave Grohl taunting Rose from the stage towards the end of their performance.
A number of vintage coats and jackets also feature at 'Kurt Cobain & the Gods of Grunge & Rock', but the most eye-catching piece of clothing is a Kurt Cobain photoshoot worn cheerleader outfit from Aberdeen Weatherwax High School, where Cobain was a student. The ensemble includes a Bobcats yellow and blue acrylic sweater and a matching polyester skirt made by Team Mates. Cobain wore the ensemble during a January 1994 photoshoot with Mark Seliger for Rolling Stone magazine, and a copy of the magazine accompanies the lot.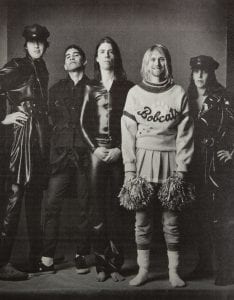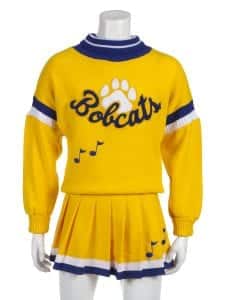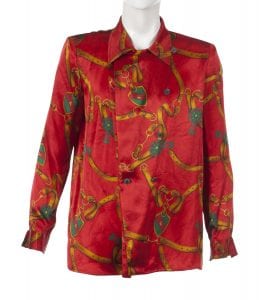 Items from the late singer and guitarist are not the only pieces of music memorabilia on display at the Museum of Style Icons over the next number of weeks, as garments belonging to Michael Jackson, Prince and Rod Stewart will all feature in the exhibition.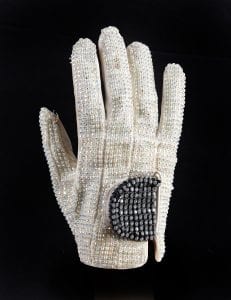 A cream leather single right hand tour glove belonging to Michael Jackson is one of the highlights of the exhibition, as is a printed silk Gucci shirt belonging to Prince and a Louis Vuitton garment bag which once belonged to Rod Stewart.
Speaking ahead of the exhibition, William Doyle, CEO of Newbridge Silverware, said; "We are delighted to bring the 'Kurt Cobain & the Gods of Grunge & Rock' exhibition to the Museum of Style Icons at Newbridge Silverware, and we are sure that there will be fans of the legendary guitarist and singer from all over Ireland coming to see some of the fantastic pieces of memorabilia in the exhibition. Kurt Cobain was a hugely influential figure not just in music, but in popular culture too. Some of the items that Julien's Auctions are bringing to us here in Newbridge Silverware are very important in the life of Kurt Cobain and they are staples of the music industry from that era. We are delighted to be able to bring this exhibition to Newbridge Silverware as it will provide fans of Kurt Cobain one last opportunity to see some of his most treasured items before they go to auction on November 3rd and 4th."
The exhibition is open daily until the 25th of October and admission is free.
For more see www.newbridgesilverware.com
or call (045) 431301