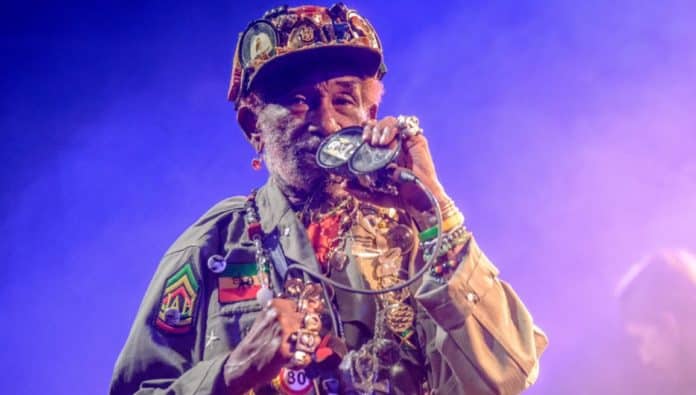 Reggae legend and pioneer of dub, Lee "Scratch" Perry has died aged 85.
The Jamaica Observer reported that Perry died after battling illness at the Noel Holmes Hospital in Western Jamaica. No cause of death has been confirmed.
"Lee Scratch Perry"
Perry's death was confirmed by Jamaican Prime Minister Andrew Holness.
He also tweeted, "My deep condolences to the family, friends, and fans of legendary record producer and singer, Rainford Hugh Perry OD, affectionately known as 'Lee Scratch' Perry". 
He also added, "Undoubtedly, Lee Scratch Perry will always be remembered for his sterling contribution to the music fraternity. May his soul Rest In Peace". 
Born in 1936, Perry's music career began in the late 1950s when he was hired as an assistant by Clement "Coxsone" Dodd who was head of reggae studio and label Studio One.
He had also produced records for Bob Marley and The Wailers. These included "Soul Revolution" and "Soul Rebel".
He went on to become a talent scout and later DJ, before eventually becoming a recording artist for the label. He earned his nickname "Scratch" by 1965, following the release of his record "The Chicken Scratch".
Following a fallout with Dodd, Perry left Studio One, claiming that he was getting "no credit, certainly no money. I was being screwed". 
Following a brief stint with Amalgamated Records, "Scratch" founded his own record label Upsetter Records in 1968.
Perry along with his backing band, The Upsetters had a series of Reggae records during the 1970s. These included the Heptones "Party Time", Max Romeo's "War Ina Babylon" and Junior Marvin's "Police and Thieves".
"Police and Theives" was later covered by The Clash, who also sought Perry's help in producing their track "Complete Control".
Further Perry works
Perry went on to work from his home studio "The Black Ark", following the release of The Upsetters' 1978 record "Return Of The Super Ape".
He ultmately burned the studio down in 1983, claiming it was possessed by evil spirits.
He had produced over 1,000 recordings throughout his career. These recordings were for the likes of the Beastie Boys, Max Romeo, the Orb The Congos and Junior Marvin.
In 2002, "Scratch" won a Grammy for Best Raggae Album with "Jamaican E.T". He was also nominated for the award in 2007, 2008, 2010 and 2014.
He was also awarded the rank of Officer, a Jamaican national honour and the Order of Distinction.
Tributes pour in for "Scratch" 
"His adventure continues beyond this realm", wrote Charlatans' frontman Tim Burgess.
His adventure continues beyond this realm pic.twitter.com/Ta3JWsXI7w

— Tim Burgess (@Tim_Burgess) August 29, 2021
The official Twitter account for Spotify also added, "R.I.P. to Lee "Scratch" Perry, reggae icon, dub pioneer, and visionary genius". 
R.I.P. to Lee "Scratch" Perry, reggae icon, dub pioneer, and visionary genius 🇯🇲 pic.twitter.com/BbCIxfTcot

— Spotify (@Spotify) August 29, 2021
Lupe Fiasco also added, "AFRICAN BLOOD IS FLOWING THROUGH I VEINS SO I AND I SHALL NEVER FADE AWAY!!!!". 
AFRICAN BLOOD IS FLOWING THROUGH I VEINS SO I AND I SHALL NEVER FADE AWAY!!!!

LEE SCRATCH PERRY 🙏🏾🙏🏾🙏🏾 pic.twitter.com/Mv1xZyyRjp

— "DRILL MUSIC IN ZION" Out Now! (@LupeFiasco) August 29, 2021