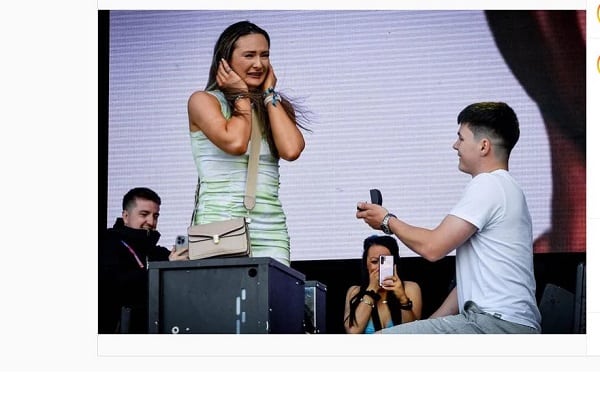 A couple who recently got engaged on stage at the Parklife Festival, have been awarded lifetime passes, along with a fully paid honeymoon.
Last Saturday, a man got down on one knee and proposed to his partner during Young Filly's set at the Manchester Festival.
However since then, the young couple have been trolled online, after a video of their proposal went online.
"frankly vile"
This conduct was also condemned by Parklife Festival co founder Sacha Lord. He also branded it "frankly vile". 
"Yesterday an amazing moment happened as Parklife saw a proposal on stage from a young couple", Lord posted on Instagram. "Unfortunately, the internet reaction to two young people sharing a special moment was quite frankly vile". 
"I would like to find this couple and give them free entry to Parklife and The Warehouse Project for life and not only that, but to pay for their honeymoon", he added.
"So that when they go away, I want them to sit there in the sun posting pictures to social media, knowing that those people who had a go at them are bitter, and they're not there". 
One of the couple was stunned by this gesture. They responded, "I'm so emotional right now, thank you so much". 
Love In The Air At The Festival
This is certainly not the first time that somebody has popped the question to their significant other at a famous music event.
Back in 2017, a loved up couple got engaged at the Glastonbury Festival.
On June 27 of that year, 32 year old Jack proposed to his partner Sarah Adey at the Croissant Neuf bandstand in the Green Fields part of the arena.
The pair went to their first Glastonbury gig back in 2011, having met at Plymouth University.
"We had seen another couple (bless their wedding) at the festival and back in 2017, before the festival, I hatched a plan to propose to Sarah on that hill", Jack said back in 2017. More on this here.