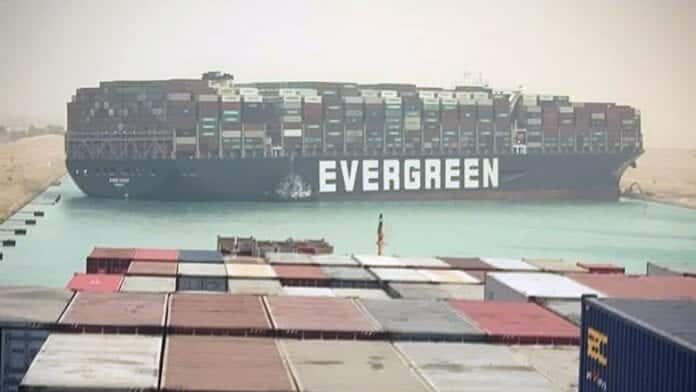 The Ever Given, a skyscraper-sized ship is still blocking traffic in the Suez Canal in what is one of the world's most busiest and important waterways.
On Tuesday, the ship ran aground and the 59-meter wide container ship became wedged diagonally across the canal.
The Suez Canal Authority (SCA) has said it was trying to refloat the Panama-flagged MV Ever Given that is operated by Evergreen Marine.
Japanese ship-leasing firm Shoei Kisen Kaisha said it owned the giant vessel and was facing "extreme difficulty" trying to refloat it.
This incident has led to at least 150 other ships being blocked off. This will cause many delays for customers and businesses around the world.
In a statement released on their website, Shoei Kisen Kaisha said, "In co-operation with local authorities and Bernhard Schulte Shipmanagement, a vessel management company, we are trying to refloat (the ship), but we are facing extreme difficulty.
"We sincerely apologise for causing a great deal of worry to ships in the Suez Canal and those planning to go through the canal."
The Suez Canal is a vital waterway. It shortens travel between Asia and Europe as it prevents vessels from having to sail around southern Africa's Cape of Good Hope.
The Singapore-to-Rotterdam route, for example, is 6,000km and up to two weeks shorter than going around Africa.
Camille Egloff, a maritime transport specialist at Boston Consulting Group said it is an  "absolutely critical" route because "all traffic arriving from Asia goes through the Suez Canal." (Quotes, RTÉ)
According to the SCA, nearly 19,000 ships passed through the canal last year carrying more than one billion tonnes of cargo.
Egypt earned nearly 5 billion euros in revenue from the canal last year.
The effort to clear the canal could take days or weeks, experts have said. Eight tug boats are working to help the ship clear its path at the moment.
It has also been reported that the Ever Given is unlikely to be able to sail now and will probably need to be towed to the nearest parking site, the Great Bitter Lake District, about 30 kilometers to the north due to damage.
For the latest updates on the Suez Canal, check out Leth Agencies Twitter account here.
Photo credit: Sky News