A doctor who has won the praise of U.S. President Donald Trump, and who like him is an advocate of the drug hydroxychloroquine, says face masks aren't necessary to stop the transmission of the highly contagious coronavirus is gathering tens of millions of views on Facebook.
Religious extremist Dr. Stella Immanuel is also an advocate of alien DNA as well as the physical effects of having sex with witches and demons in your dreams!
Donald Trump has described a doctor who's spread misleading information about coronavirus as "very impressive" and "spectacular".
The US President shared a clip of a group of medics advocating hydroxychloroquine as an effective Covid 19 treatment.
Facebook and Twitter later removed the video, flagging it as misinformation – but it had already been viewed by 17 million people.
Doctor Immanuel has previously said medicines are being created using DNA from aliens ; and that scientists are developing a vaccine to stop people becoming religious.
Immanuel has inspired incredulity, despair and hilarity in in equal measure by claiming that gynecological issues such as like cysts are in fact caused by people having sex in their dreams with demons and witches.
Immanuel claims that medical issues like endometriosis, cysts, infertility, and impotence are caused by sex with "spirit husbands" and "spirit wives"—a phenomenon that she describes essentially as witches and demons having sex with people in a dreamworld.
She alleges alien DNA is currently used in medical treatments, and that scientists are cooking up a vaccine to prevent people from being religious.
And, despite appearing in Washington, D.C. to lobby Congress on Monday, she has said that the government is run in part not by humans but by "reptilians" and other aliens.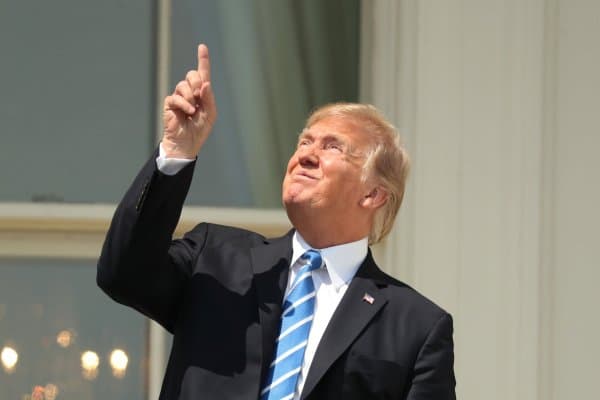 Immanuel went viral with an extraordinary speech on the steps of the Supreme Court at the White Coat Summit, an event organised by right-wing pro-Trump Tea Party Patriots, who are bankrolled by wealthy Republican donors.
Immanuel alleges that she has successfully treated hundreds with hydroxychloroquine, a a treatment Trump has widely promoted and says he has taken himself.
Studies though, have failed to find any proof that the drug has any benefit in treating COVID-19, and the Food and Drug Administration in June revoked its emergency authorization to use it to treat the deadly virus, saying it hadn't demonstrated any effect on patients' mortality prospects.
"Nobody needs to get sick," Immanuel said. "This virus has a cure."
Immanuel said in her speech that the supposed potency of hydroxychloroquine as a treatment means that protective face masks aren't necessary, claiming that she and her staff had avoided contracting COVID-19 despite wearing medical masks instead of the more secure N95 masks.
"Hello, you don't need a mask. There is a cure," Immanuel said.
Toward the end of Immanuel's speech, the event's organizer and other participants can be seen trying to get her away from the microphone!!
But footage of the speech captured by Breitbart was a hit online, becoming a top video on Facebook and amassing roughly 13 million views—significantly more than "Plandemic," another coronavirus disinformation video that became a viral hit online in May, when it amassed roughly 8 million Facebook views.
Hydroxychloroquine trended on Twitter, as Immanuel's video was embraced by the Trumps, conservative groups, and pro-Trump personalities.
Sensibly Facebook and Twitter eventually deleted videos of Immanuel's speech from their sites, citing rules against COVID-19 disinformation. The deletions set off yet another round of complaints by conservatives of bias at the social-media platforms.