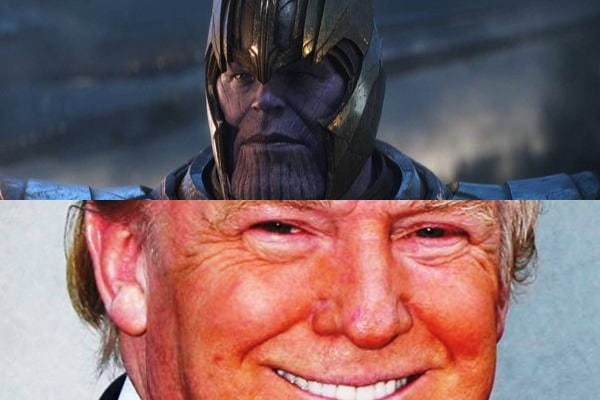 The creator of the Marvel's Thanos Jim Starlin has called US President Donald Trump a "pompous fool" after his team used the villain in a campaign video. An Avengers film clip showed Trump's head superimposed onto Thanos's body as displayed by the Trump War Room Account which is managed by #TeamTrump2020 campaign.
It then showed him declare his re-election in 2020 "inevitable", clicking his fingers to wipe out his political opponents in the process in quoting Josh Brolin who played the giant character from Avengers:Endgame.
An angry Starlin vented his anger when he told The Hollywood Reporter."After my initial feeling of being violated, seeing that pompous fool using my creation to stroke his infantile ego, it finally struck me that the leader of my country and the free world actually enjoys comparing himself to a mass murderer".
"How sick is that? These are sad and strange times we are going through. Fortunately, all things, even national nightmares, eventually come to an end."
Starlin originally came up with supervillain in 1973, when he made his first appearance in The Invincible Iron Man book story. The video shows Trump as Thanos, obliterating a group of Democratic politicians holding a news conference to announce articles of impeachment against the president.
House Democrats can push their sham impeachment all they want.

President Trump's re-election is 𝗶𝗻𝗲𝘃𝗶𝘁𝗮𝗯𝗹𝗲. pic.twitter.com/O7o02S26nS

— Trump War Room (@TrumpWarRoom) December 10, 2019