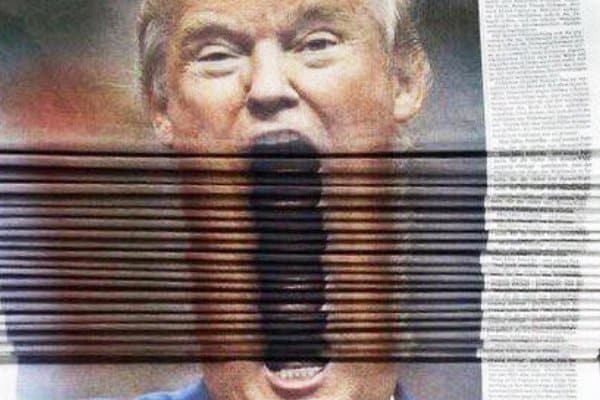 .@realDonaldTrump is not above the law. The Congress cannot let the President shred the Constitution.

— Nancy Pelosi (@SpeakerPelosi) February 15, 2019
The US President's confirmed he will sign a National Emergency in his bid to improve security on the Southern border with Mexico.
In a speech today Donald Trump outlined a host of reasons to build a border wall. Trump made the announcement in the Rose Garden at the White House.
"I am going to declare a national emergency," Trump said.
It was a campaign promise of the President and one which lead to a showdown with congress and the longest government shutdown in US history.
Trump repeated several lies in justifying the need for the wall, such as, that drugs enter the US through areas where there is no border wall.
POTUS has no facts to back up his call for a national emergency and tells me to sit diwn when I ask him to provide those stats. @realDonaldTrump

— Brian J. Karem (@BrianKarem) February 15, 2019
Trump also erroneously said most drugs do not go through legal points of entry. "You can't take human traffic, women and girls through legal points of entry,".
"They [border agents] open the door, they look." Trump added again wrongly. "They go through areas where they have no wall."
He'll use the declaration to spend taxpayer money on the wall without Congressional approval. He had demanded $5.7bn for the wall, which Congress refused to approve.
The measure, which critics call unconstitutional, is expected to face legal challenges. Several Republicans have also called it a bad idea.
He said he was building the wall "not because it is a campaign promise, which it is", but due to an influx of drugs coming across the border. The majority of drugs coming into the US come through legal points of entry, not in areas where there is no wall.
Trump says of the wall. "It's a great thing to do because we have an invasion of drugs, invasion of drugs invasion of people and its unacceptable."
National emergency declarations have been "signed many times by past presidents", Trump added but most onlookers believe such a declaration is not required and will be fought in Congress.
"It's not like its complicated its very simple we want to stop drugs from coming into our country. We want to stop criminals and gangs from coming into our country."
BREAKING: President Trump says he'll declare national emergency, use executive powers to bypass Congress, obtain more money for border wall.

— The Associated Press (@AP) February 15, 2019
President Trump clashes with CNN journalist…again.

Jim Acosta says critics would say Trump is "creating a national emergency", to which the president replies "fake news".

Follow live reactions to @realDonaldTrump's speech here: https://t.co/OPqc0fJdX5 pic.twitter.com/rzjHdy9etH

— Sky News (@SkyNews) February 15, 2019