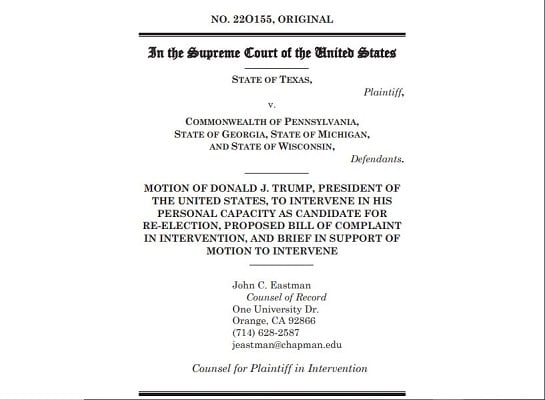 On Wednesday, President Donald Trump moved to intervene in Texas' election lawsuit that is trying to overturn Joe Biden's win in four states. 17 Republican-run states also joined the cause.
Trump sought for Supreme Court intervention to overturn the results of the 2020 presidential election in key battleground states. This is a last-ditch attempt by Trump to try tip the scales in his favour.
The president's attorney filed the motion just hours after Trump indicated he planned to get involved in the case. Texas Attorney General, Ken Paxton is alleging that the new voting processes in Georgia, Michigan, Pennsylvania and Wisconsin skewed the presidential election results. The Republican also suggests that electors should not be allowed to cast their votes for President-elect Joe Biden.
US officials have said that the recent presidential election was the "most secure in American history". However, President Trump has been spreading false claims about how the election was "stolen" or "rigged" for weeks now. Although, this lawsuit does not try carry those claims.
Instead, Trump's attorney wrote that "it is not necessary for the Plaintiff in Intervention to prove that fraud occurred. However, it is only necessary to demonstrate that the elections in the defendant States materially deviated from the 'manner' of choosing electors established by their respective state Legislatures."
At times, the case highlights inaccurate evidence to question the election results. It claims no candidate has won both Florida and Ohio, which Trump did, and lost the presidential election. Although, former President Richard Nixon won both states and still lost the race in the 1960 election.
The motion also cites a Rasmussen poll that found 47% of Americans believe the election was rigged. Trump has pushed that narrative the most with his Tweets of misinformation and refusing to accept defeat, even after states certify their results.
The case was filed just a week before the Electoral College, which is set to meet to formally certify the winner of the 2020 election. Seventeen state attorney generals have signed on to the case.
Jenna Ellis, a legal adviser to the Trump campaign, said in a statement:
"President Trump is fully committed to ensuring election integrity and fulfilling his oath to defend and protect the United States Constitution against state officials' misconduct and violations of law that irredeemably compromised this election."
Ellis added that they "look forward" to the Supreme Court resolving these important issues of election integrity and providing a remedy to the corruption that occurred.
The Trump campaign has yet to produce concrete evidence of corruption, or widespread fraud, in court. Attorney General William Barr has said his department has yet to see proof that widespread fraud occurred that would change the outcome.