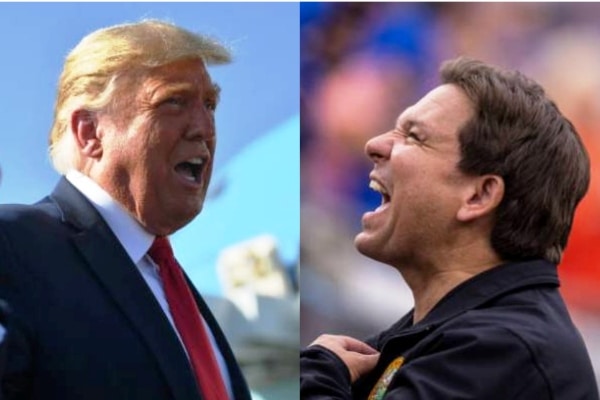 Ron DeSantis, the 44-year-old governor of Florida who stormed to victory in the U.S. midterms on Tuesday says he's looking "forward to the road ahead".
The Republican gaining more and more traction daily ahead of the Republican Presidential nomination race added in the re-election victory speech: "We have accomplished more than anybody thought possible four years ago, But we have got so much more to do, and I have only begun to fight."
DeSantis's sweeping win came hours after Trump appeared to threaten the Republican governor, warning that he could "hurt himself very badly" if he entered the race.
"I would tell you things about him that won't be very flattering," Trump said of DeSantis, or "DeSanctimonious", as he began to childishly nickname him in recent days.
"I know more about him than anybody, other than, perhaps, his wife."
US Senate candidates backed by Trump ran in crucial battleground states, such as celebrity TV doctor Mehmet Oz in Pennsylvania, JD Vance in Ohio and former football star Herschel Walker in Georgia.
However some Trump-backed candidates had struggled compared with more moderate Republican contenders.
For example, in Ohio, Republican Trump critic Mike DeWine beat Democratic Nan Whaley, by a 26-point margin in the governor's race.
In Pennsylvania, Trump's pick for governor, Doug Mastriano, lost by a wide margin to Democrat Josh Shapiro.
In New Hampshire, moderate Republican governor Chris Sununu cruised to re-election while Democrat senator Maggie Hassan beat Trump backed Republican Don Bolduc.
As results rolled in Trump was uncharacteristically muted at an election night party he hosted at Mar-a-Lago resort, giving a brief speech in which he congratulated a handful of candidates whom he had endorsed who had easily won their races, including Marco Rubio, the Republican senator in Florida.
"This has been a very exciting night," Trump said in measured tones, "and we have some races that are hot and heavy."
Trump's declaration that he would make a "very big announcement" next week at Mar-a-Lago sent the strongest signal so far that he will soon attempt to reassert himself as the dominant figure in Republican politics.
Trump is widely seen as the frontrunner for the party's nomination if he runs again in 2024 as he is the favourite among about half of the party's grassroots voters, followed by DeSantis, who claims the support of just shy of 21 per cent of Republicans.
Even if the former president has been dealt a blow by the results of the midterm elections, on Tuesday night he stood resolutely behind his record.
When asked in an interview to what extent the Republican results in the midterms should be attributed to him, Trump said: "Well, I think if they win, I should get all the credit, and if they lose, I should not be blamed at all.
"But it will probably be just the opposite," he added, telling News Nation: "Usually what would happen is, when they do well, I won't be given any credit, and if they do badly, they will blame everything on me."