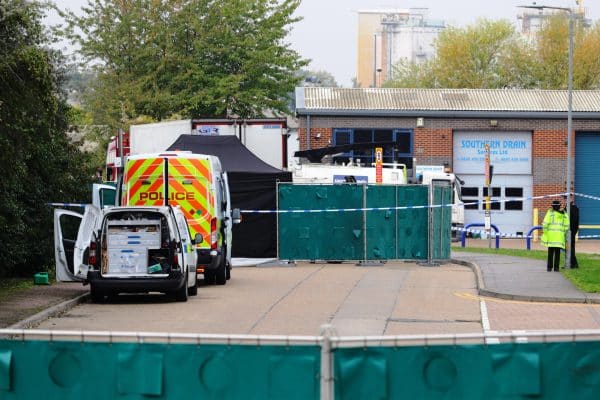 Two more people have been arrested over the deaths of 39 people found in a lorry container in Essex.
It comes as Police have begun trying to identify those who lost their lives. The two people arrested today are a man and woman – both 38-years of age – from Warrington.
They've been arrested on suspicion of conspiracy to traffic people and on suspicion of 39 counts of manslaughter.
Meanwhile, the driver of the lorry – a 25 year old man from Co. Armagh – remains in custody on suspicion of murder.
Gardai, the PSNI and Essex Police are now trying to establish who hired the trailer from an Irish company, GTR.
Work is now underway in an effort to establish the identities of the 31 men and 8 women discovered in the back of the lorry
It was initially thought they were Chinese nationals. However, China's foreign ministry says that's yet to be confirmed.
The 39 people who lost their lives have been remembered through vigils in Belfast and London.
Authorities say their investigation is being carried out with respect for every single one of those people.