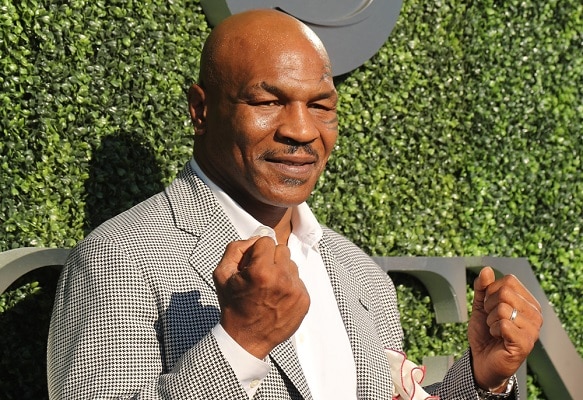 Mike Tyson admits to smoking weed on his return to boxing, before going toe-to-toe with Roy Jones Junior, saying "I just have to smoke."
Over the weekend, the boxing legend marked his return to the ring with his first fight in fifteen years. However, Tyson 'smoked up' before the fight with Jones and still went on to complete an eight-round exhibit. It did not seem to have much effect on Tyson, who showed excellent technique and speed in his fighting.
After the bout, Tyson indicated that he smoked more, before he met with the media. USA Today caught up with Tyson and he told reporters that he just "can't stop."
"Listen, I can't stop smoking," said the 54 year-old. "I smoked during fights. I just have to smoke, I'm sorry. I'm a smoker… I smoke every day. I never stopped smoking."
"It's just who I am," Tyson continued. "It has no effect on me from a negative standpoint. "It's just what I do and how I am and how I'm going to die. There's no explanation. There's no beginning, there's no end… it just numbs me. It doesn't numb the pain.'
USA Today reports that the Voluntary Anti-Doping Association tested each boxer for performance enhancing drugs before the fight. Although, marijuana was not listed as a banned substance. Since the fight was more an exhibition rather than a professional fight, this apparently gave Tyson some wiggle room.
Tyson Looks To Be In Great Shape
The fight was entertaining, and Tyson looked to be in great shape, both physically and mentally. This was a highly focused fighter, looking fit and powerful and landed hard, powerful punches to Jones' body. Jones did manage to flash some of his old showmanship and kept Tyson at bay for most of the fight.
On a night where Tyson maybe should have edged out on points, the fight ended as a draw and both fighters received a belt. Although, he does plan on boxing again and expressed interest in fighting top heavyweights like Tyson Fury, Anthony Joshua or Deontay Wilder, as well as a rematch with Jones. However, Mike is keeping his options open.
"Maybe we do something in the south of France,'' he said. "Monaco. In Saint-Tropez. We do something out there, one of the European fighters out there or something. Anything is possible. Sky is the limit.''
*Radio Nova does not condone the misuse of drugs.