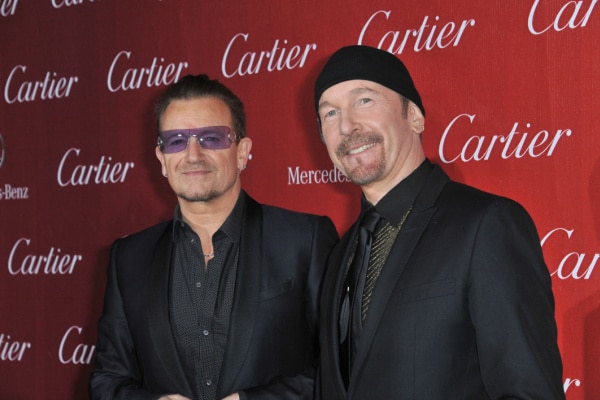 Bono and the Edge are to team up American TV legend David Letterman for a St Patrick's Day special, it has emerged.
David Letterman has been spotted in Dublin over the past number of days, filming his Irish themed show, which will be showcased on an American streaming service.
The show has already filmed Glen Hansard, Imelda May and Brian Kennedy performing a few tunes in McDaid's pub in central Dublin, alongside the U2 pair.
Having entered through the back door or the Westbury Hotel, Bono and the Edge were whisked through the building, before arriving at the nearby pub, which had been closed for production purposes.
Letterman
On top of this, Bono and the Edge also performed a few tracks to a select invited audience at the Ambassador theatre this week, once again in front of Letterman's camera.
David Letterman and his camera crew have also been spotted filming at St Patrick's Cathedral and the Clarence hotel, which is partly owned by U2. Letterman also interviewed Drag Queen Panti Bliss.
David Letterman is of course famous in American for hosting various talk shows from 1982 to 2015. He also hosted the Oscars in 1995.
Recently, he has been presenting his own Netflix show, My Next Guest Needs No Introduction with David Letterman.
Bono Can "leave it at the door"
Speaking of Bono, Glen Hansard was full of praise for the U2 singer for getting into the spirit of the busking scene.
Hansard lauded Bono as "someone with a self-confessed massive ego is able to leave it at the door and go, 'Right, let's do this". 
Earlier, Hansard also shared an insight into how he crossed paths with the singer.
"Bono's car broke down at four o'clock in the morning. I helped him push his car into the garage and I said, 'Would you be up for singing a few songs on Grafton Street?", the Frames singer revealed.
He continued, "And he was like, 'What is it?' I said, 'We're just doing a bit of busking and then we give the money to Peter McVerry or Simon or whoever".
Adding, "He said, 'What's it like?' I said, 'Here's the deal, there are no lights, there's no security, there's no tickets, nothing, there's not even a stage.' He was like, 'F**k it, I'll be down…and then he came down. I'd had very little contact with him before that".