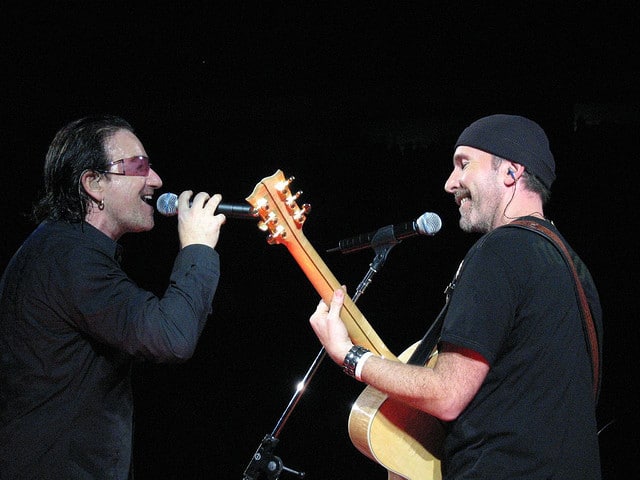 It's only been U2's fifth show on their 'Innocence + Experience Tour' and they have already created quite a stir. Last week it was for all the wrong reasons as The Edge fell off the side of the stage. This time around they reached out and invited a fan on stage for a rare performance of ' In God's Country'.
The song from the Grammy award winning album The Joshua Tree rarely sees the light of the day. A fan requested the song to be played during a show in Phoenix, Arizona. Not only did they play it, the lucky fan was invited up on stage to play with them. Luckily he knew the chords and once The Edge and Bono started playing it all came back to them.
In a recent interview Bono said "Much of the show that takes place on the catwalk and and the main stage is pretty locked in setlist-wise, though during the encores and the B stage segment we have a lot of freedom to play around". The acoustic segment of their shows seems to be the chance for some of the lesser known songs to get some air time.
They are currently on the North American leg of their tour and next up is a show in Los Angeles. Their Dubin dates are still a bit up in the air, but hopefully we will get some news soon. Stick with Radio Nova for further updates on the situation.