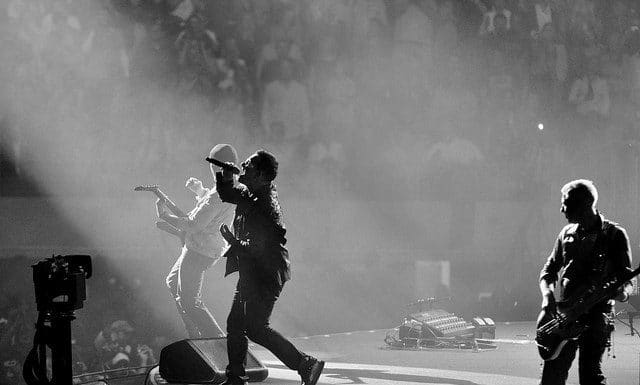 It's not exactly the collaboration that most comes to mind, but it has indeed happened, rapper Kendrick Lamar has a new song featuring none other than U2.
Their new track entitled XXX is on Kendrick Lamar's new album DAMN which has been released today April 14th. The internet has been having a field day with the collaboration and fans of both acts have been busy casting their opinions on the song.
https://twitter.com/thejessatr0n/status/852749274790076417
https://twitter.com/ParallelL1nes/status/852746631380213760
Lamar has been going from strength to strength over the last couple of years. He burst on to the Hip Hop scene with his debut album, Good Kid, m.A.A.d City, which was released to massive acclaim. The album had impressive sales for an up-and-coming recording artist. He was tipped by many critics to be the new voice of Hip Hop as his raps were filled with socially conscious lyrics. He continued to receive an array of accolades for his 2015 Grammy-winning album To Pimp a Butterfly. Early reviews of DAMN suggest that this album is not going to be a let-down for Lamar fans.
U2, meanwhile, have been busy prepping for the new tour in honour of the 30th anniversary of the release of their album The Joshua Tree. Tickets for the tour sold out fast and the band have multiple tour dates set in the US and Europe. The European Leg of the tour will feature Noel Gallagher and the High-Flying birds as support.
The band recently delayed the release of their new album, Songs of Experience, which was set to be a follow up from their 2014 album. The album release caused controversy when it was launched in association with Apple and many an iTunes holder woke up with the album available for them before they had a chance to download it themselves.
Photo Cred: Robert Hensley