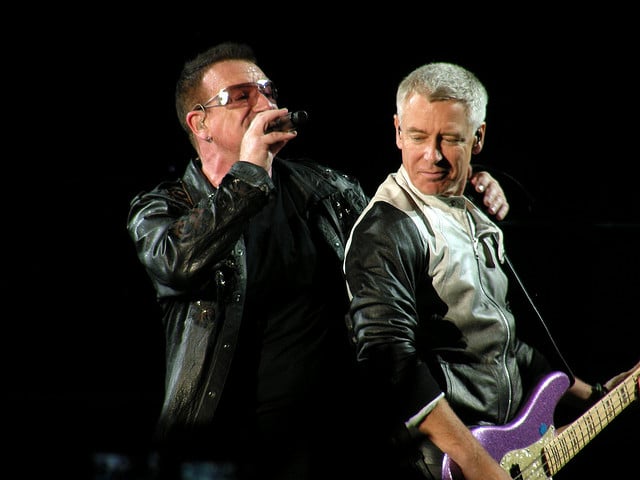 U2's bassist Adam Clayton claims that the band have finished nearly '70 per cent' of their next LP.
This news may not be music to some people's ears, after the backlash of their current record Songs Of Innocence.
Fellow musicians, industry experts and music critics have been slating the Irish lads, after they released their new album for free on iTunes.
U2's 13th album, Songs Of Innocence has been listened to over 38 million times since its release. Bono said, "If you're a songwriter, if you're in a band, that's all you can ask for. Whether they take them to their heart is something else."
Speaking to Q Magazine Adam Clayton reveals that the band are almost finished their 14th studio album, apparently to be titled Songs of Experience.
"I think we've probably got 70 per cent of the material that we think will go onto it. The 30 per cent that we're missing I think we'll be able to generate relatively easily. But the amount of energy it will take to refine the perspective of those songs is hard to predict."
Of course the big question is, will the Irish rockers offer their upcoming album on iTunes again?
"Y'know what, depending on how long it takes to be completed, there may be a whole new delivery method invented by then… I think we just have to wait and see. There'll be a bit of water under the bridge before we get to that point. But yeah, I think it would be a bit predictable to do the same thing. And y'know, the law may have changed by then and we'll have to find some other way of doing it."
Bono appears to be undaunted by the naysayers and the band are certainly proponents of the theory that if art doesn't provoke a reaction, you're not doing your job right.
However U2 deliver their next album there are sure to be complainers and begrudgers.