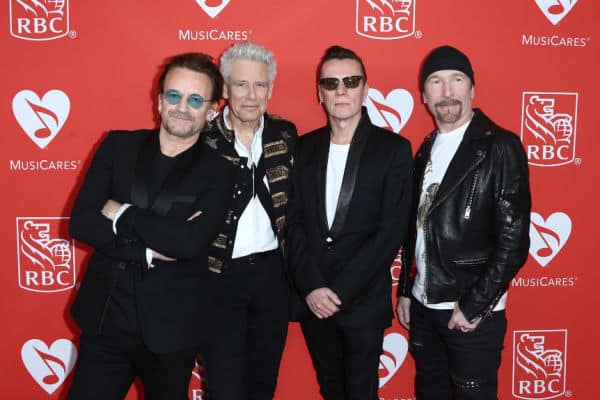 U2 have confirmed that they will release an album of re-recorded tracks on St Patrick's Day.
Titled Songs of Surrender, the album will feature "reimagined and re-recorded" tracks from the band's back catalogue. U2 confirmed this news via a set of posts on social media.
Sharing a sneak preview of this release, the band released a teaser video of a brand new version of their 2000 hit 'Beautiful Day'.
Songs Of Surrender. 40 Songs. Reimagined and rerecorded. March 17, 2023. #U2SOS40 pic.twitter.com/QmdJ7NIAus

— U2 (@U2) January 10, 2023
"When a song becomes very well known"
News of this album comes after The Edge shared a letter with a select group of fans about this new record.
"When a song becomes well known, it's always associated with a particular voice. I can't imagine Tangled Up In Blue without the reedy timbre of Bob Dylan or All The Time In The World without the unique voice of Louis Armstrong. So, what happens when a voice develops and experience and maturity give it additional resonance?", he wrote.
He also added that this latest U2 project "was written and recorded when we were a bunch of very young men" and that the songs had changed over the years to "mean something quite different to us now".
"Some have grown with us," he wrote. "Some we have outgrown, but we have not lost sight of what propelled us to write those songs in the first place. The essence of those songs is still in us. But how to reconnect with that essence when we have moved on and grown so much?".
The Edge also revealed that U2 want to bring their old tracks up to date, and given them a "a 21st-century reimagining".
"Once we surrendered our reverence for the original version, each song started to open up to a new authentic voice of this time, of the people we are now, and particularly the singer that Bono has become," he added. "I hope you like our new direction".
While no official tracklist has been confirmed, the album is set to feature tracks from Bono's memoir Surrender: 40 Songs, 1 Story.
This also comes after Bono and The Edge announced plans to team up with American TV star David Letterman for a St Patrick's Day special. More on this here.