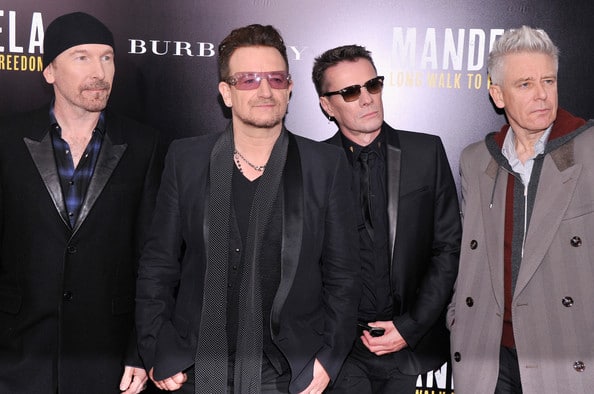 U2 have been quite busy over the past few weeks, now the Irish lads unveil the artwork that will accompany the physical release of their new album Songs Of Innocence.
The main cover features a striking black and white image of Larry Mullen hugging his son Larry Jr.
Songs Of Innocence was given away on iTunes to Apple's 500 million subscribers and it is estimated that 38 million people have listened to the album so far.
The photography was taken by British fashion photographer and film director Glen Luchford. The new visuals merge well with the album's overall inspiration of U2 growing up in Dublin as teenagers.
The cover image shows drummer Larry Mullen on his knees, protecting, almost cradling his 18 year-old son. The photo alludes to the group's earlier LP covers, their debut Boy and War. "The idea of the unique relationship between a parent and child, the image of a father and son, came from the band. The shoot with Larry and his son was initially an experiment but everyone loved it as a visual metaphor for the record."
Bono wrote, "We've always been about community in U2, about family and friends. Songs Of Innocence is the most intimate album we've ever made. With this record we were looking for the raw, naked and personal, to strip everything back."
"If you know the album, you'll see the themes in the visual language, how 'holding on to your own innocence is a lot harder than holding on to someone else's."
The physical copy of Songs of Innocence is on October 13th and comes in three formats. It will be available on a two disc deluxe edition as well as on vinyl.
Deluxe, 2 CD Format which comes with 2 x 16 page booklets, the 11 track album on CD1 plus additional tracks on CD2 including a 6-song acoustic session along with Lucifer's Hands, The Crystal Ballroom, The Troubles (Alternative Version) and Sleep Like A Baby Tonight (Alternative Perspective Mix by Tchad Blake).
2 LP 180gram White Vinyl Format featuring the 11 track album on sides 1, 2 & 3 with bonus track The Crystal Ballroom 12″ Mix on side 4.
Single CD Format with a 24-page booklet along with the 11 track album.